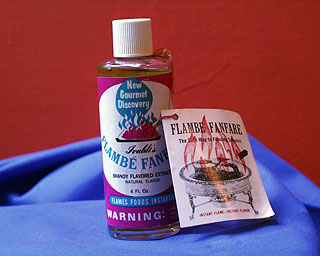 Of all the merchandise categories out there, one of the best is dusty merchandise -- products that have been left on the shelves and forgotten about until they begin to gather dust, almost daring someone to buy them. I'm always happy to take that dare, and I took it most recently with Ivaldi's Flambé Fanfare, a brandy-flavored extract that appears to date back to the late 1960s or early 1970s, which I stumbled across a few months ago in a small Wisconsin grocery store.

As its name suggests, Flambé Fanfare is designed to help you set foods aflame -- a nicely specialized function. But since this can just as easily (and more commonly) be done with cognac, what's so remarkable about Flambé Fanfare?

1) The bottle. Flambé Fanfare's simple cylindrical bottle is nothing special in design terms, but the key is that it's made out of glass, something you rarely see anymore for bottled goods. Not only does this make for a more solidly hefty product than a plastic bottle would, but it also results in that lovely little ringing-glass sound ("Piiinnng!") when you unscrew the cap.

2) The label. The Flambé Fanfare label packs so much fun into so little space, I barely know where to begin. For starters, you've got the magenta-and-teal illustration of a flaming turkey. This is accented nicely by the obligatory marketing-hype lines, "New Gourmet Discovery" and "Flames Food Instantly." Just below this is a fine-print warning, which admonishes us, "Do not pour from bottle in an already-flaming food" (words to live by right there). The best parts, however, are on the back of the label, where we find a pair a lines that really deserve to go down in package-design history: "Instant Flame -- Instant Flavor" and, my favorite, "Every Cook a Chef!"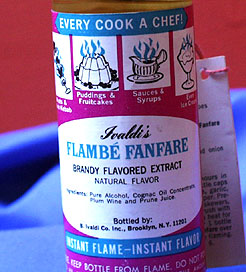 3) The price. Not only did Flambé Fanfare cost me only 98 cents, but the price had been marked directly on the label with one of those purple grocery price-stampers that you rarely see anymore -- nice!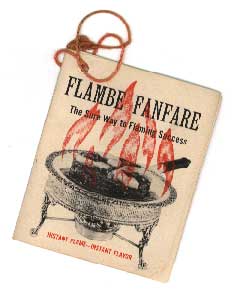 4) The booklet. I love products that come with little recipe booklets, and Flambé Fanfare's booklet -- thoughtfully attached to the bottle neck with a little red string -- is among the best I've ever seen. The cover describes the product as "The Sure Way to Flaming Success." Inside you'll find recipes for Duckling Flambé, Fruitcake Flambé, and Flaming Ice Cream, along with directions for making something called "Exotic Dessert or Ham Sauce," a recipe that must surely set some sort of record for culinary versatility. All of these recipes say you should "ignite" the food at the crucial flambé moment, which sounds pretty cool; a recipe for Bananas Caribbean, however, instructs us to "set ablaze," which, let's face it, sounds even cooler.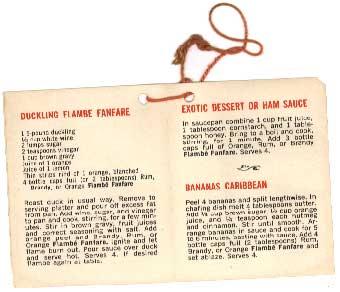 Unfortunately, as is so often the case with dusty products, Flambé Fanfare is no longer in production, and its manufacturer -- the Brooklyn-based B. Ivaldi Co. -- has gone out of business. As for my bottle of Flambé Fanfare, my cooking repertoire tends not to be fancy enough to veer toward flambé territory, but I'm comforted by the knowledge that the mere presence of this product in my kitchen gives me that air of gourmet sophistication. Like the label says, every cook a chef.