Given the number of things I've compulsively collected over the years -- wheat pennies, baseball cards, beer trays, coin-operated gadgets, etc. -- it's somewhat surprising that ordinary consumer products don't usually push my collector buttons. I really like Cheerios, for example, but I don't feel the need to have all six varieties in my cupboard (for those of you keeping score at home, that would be regular Cheerios, Honey Nut Cheerios, Apple Cinnamon Cheerios, Multi-Grain Cheerios, Frosted Cheerios, and Team Cheerios). Occasionally, however, I'll stumble across an ordinary grocery discovery that activates my collecting instincts, such as the magnificent cleaning products from the Magic American Corporation, an Ohio firm that was founded in 1934 and really hit its stride in the mid-1960s, when it introduced the first in a series of aerosol spray cleaners -- a product line that practically screams, "Collect them all!"

What's so cool about Magic American's cleaning products? For starters, their names all feature the word "Magic." There's Cabinet Magic, Marble & Granite Magic, Stainless Steel Magic, Furniture Magic, Kitchen Magic, Tile & Grout Magic, Chandelier Magic, Fiberglass Magic, Panel Magic, Vinyl Magic, Microwave Oven Magic, Countertop Magic, Carpet Magic, and Plastic Cleaner Magic. Read over those names again; say them out loud. The endless repetition of "Magic" (a "Magic" mantra, if you will), combined with each cleaner's incredible specificity of use, soon induces a Zen-like trance state, from which the only escape is to purchase the entire product line, en masse. It's no longer enough to have just one or two of the cleaners -- you have to have them all.

Moreover, like all good collectibles, Magic cleaners transcend the consumer realm and spill over into the world of pop culture. The jauntily designed aerosol cans, many of which have contrast-color caps, look almost like toys. And thanks to Magic American's failure to update most of the cleaners' graphics, many of the cans feature hilariously outdated photos. The Garage Magic design, for example, depicts a happy housewife dressed in bellbottoms and standing beside what looks like an early-1970s Ford Mustang. And Plastic Cleaner Magic (it's unclear why this item, alone among the entire product line, has the word "Cleaner" in its name) shows another smiling homemaker, this time posing with a hi-fi turntable, a stack of vinyl LPs, and what appears to be the very first personal computer ever made.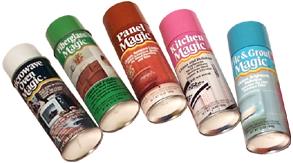 It's this type of unintentional genius that makes the Magic line so irresistible. It all works so well, in fact, that it's easy to overlook the obvious question that needs to be asked: Is there really any difference between all these cleaners? I mean, most likely they're all just a generic version of Fantastik, right? It's a testament to Magic's appeal that I don't care about that, just as I don't care whether I really "need" products like Garage Magic or Chandelier Magic (I have neither a garage nor a chandelier, and I think it's fair to say that I'm unlikely to acquire either one in the foreseeable future). As is always the case when collecting is involved, need has nothing to do with it, and neither does free will: It's not a choice -- it's an imperative. (Magic American Corporation, 23700 Mercantile Rd., Cleveland, OH 44122; 800-321-6330)