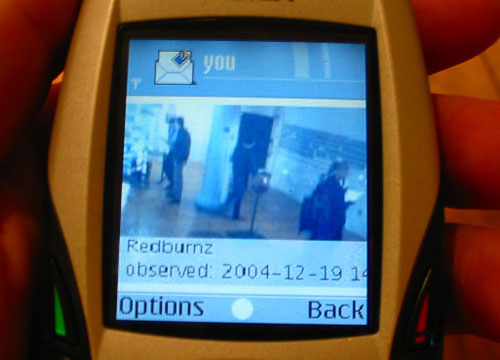 BlueFish
Ian Curry
http://www.nobodaddy.org/portfolio/bluefish.htm
Bluetooth surveillance setup that snaps a pic/vid of anyone with a 'toothed device on 'em that happens by.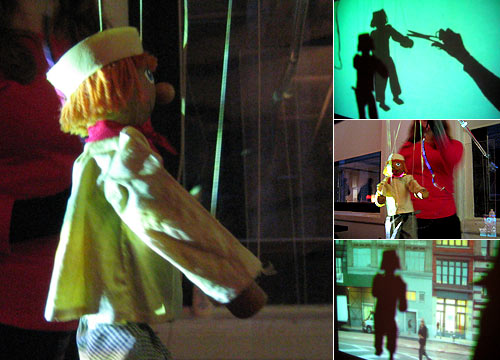 Please Release Me - The Marionette Project
Mirit Tal, Daniel Holsopple, Keunyoung Oh
http://stage.itp.nyu.edu/~mt1192/pcomp/marion.html
Show highlight of marionette-controlled navigation through various spaces. Bonus ingenuity: Putting the video projector behind the puppet creates protagonist as shadow. Easy.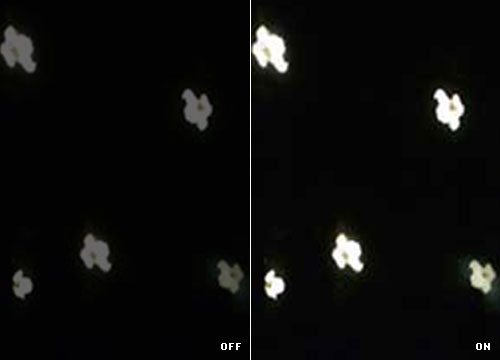 Solar Wallpaper
Marta Lwin, Ty Whitfield, Teresita Cochran
Ramakrishnan Subramanian
Electroluminescent film gives beautiful glow to floral wallpaper patterns. Blog-attractive and worthy of it.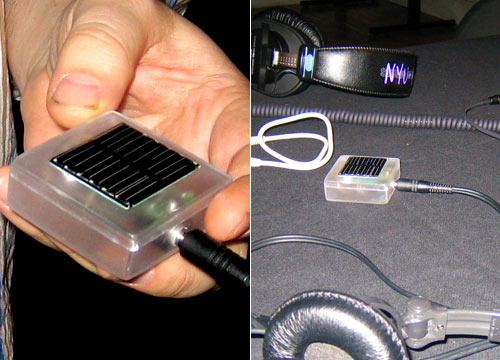 Connect
Morgan Barnard
http://www.morganbarnard.com/solarcoustics
Plug your headphones into this solar-powered device for a "personal sonic landscape." A simple device with crazy potential.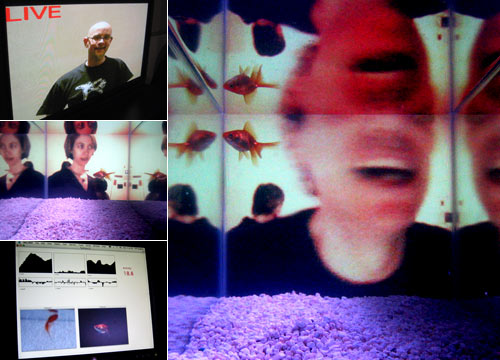 fish-byte.net
Jason Babcock, Michael Kertesz
http://stage.itp.tsoa.nyu.edu/~jsb314/projects/fish/wintershow.html
Crowd-pleasing installation with motion tracking on a hidden fishtank; fish's behavior is tied to actor/avatar gesticulation on flatscreen in front of you. Peek behind the wall to find that you've been conversing with a goldfish!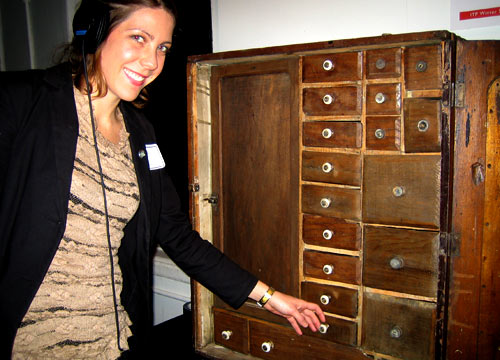 The Bureau of Doctor Goodman
Jeffrey Galusha, Emily Conrad
Non-linear audio narrative triggered by drawers in an antique bureau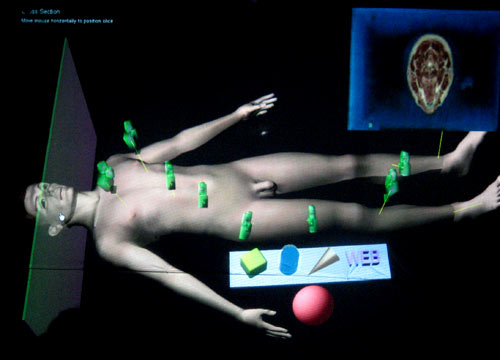 Virtual Patient Project
Jean-Marc Gauthier, Martin Nachbar
http://tinkering.net/vp
Fascinating exporation of the intersection of computer games and medical visualization.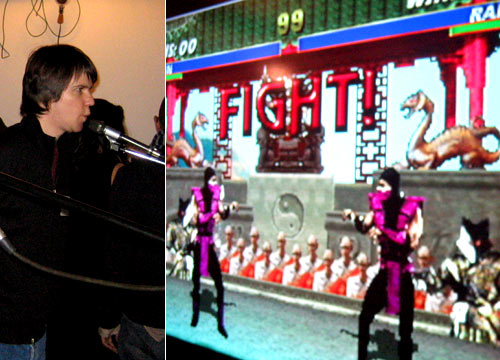 Sonictroller
Spencer Kiser, David Hindman
http://www.sonictroller.com
Entertaining instument- and voice-controlled Mortal Kombat game. Shout to punch.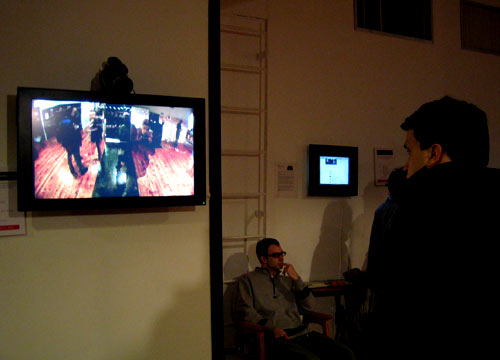 The Crowd in Us
Beliz Demircioglu
http://stage.itp.nyu.edu/~bd319/lipp.htm
For a video-capture-and-effects piece, this was a standout, time-delaying and superimposing you over yourself.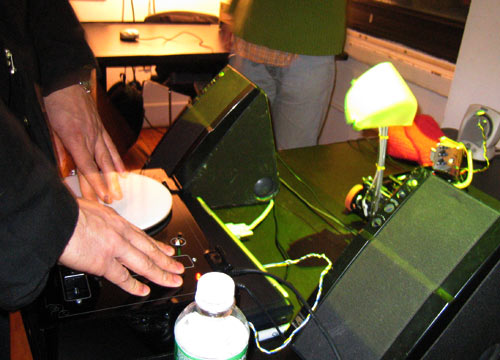 Club Robot
Jason Lee, Richard Miller, Kuan Huang
http://stage.itp.nyu.edu/~kh861/Pcomp/Final_Pres.htm
Synthable outputs midi notes to a synthesizer as well as serial commands to dancing robot.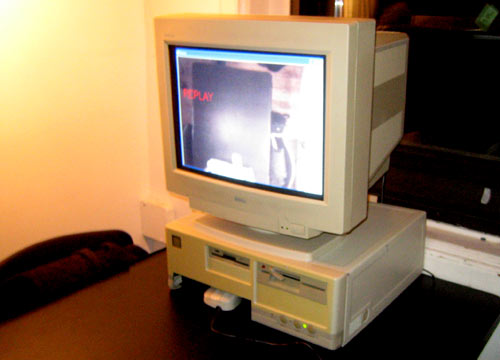 Mouse Trap
Mouna Andraos, Michael Kertesz
http://stage.itp.nyu.edu/~ma1392/projects/mouse/show
Sweet one-liner with mouse running away into its home when it senses you near.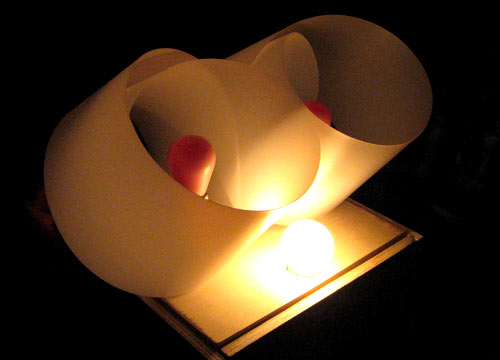 Pulse Lamp
Matty Sallin
http://www.mathlete.com/portfolio/pulselamp.php
Show highlight of contemplative lamp that reads, then blinks back, your heartrate.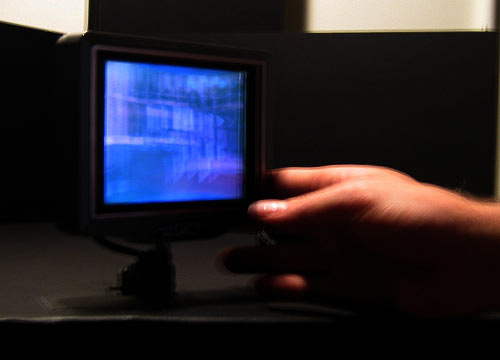 Victoria, Live from 1916
Jeffrey Galusha
Rotatable LCD allows visitor to look around the East Side's Tenement Museum.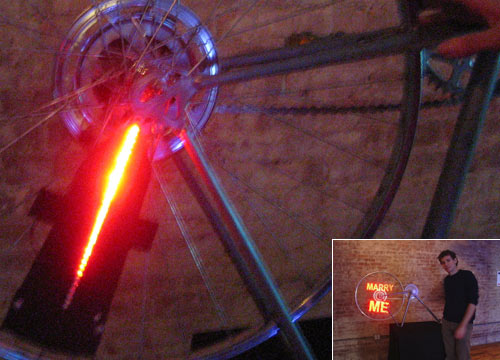 Bicycle Wheel
Michael Kertesz
http://stage.itp.nyu.edu/~mk1845/projects/snl
Sure it's obvious, but this guy built it. Now how do you lock it?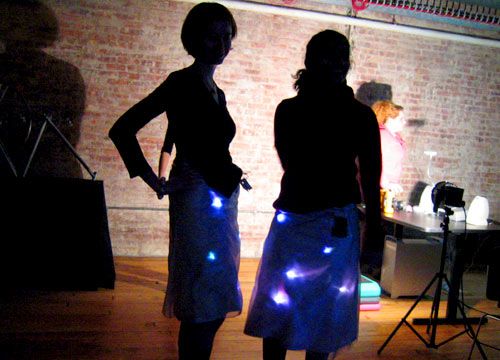 Out of the Closet
Sonali Sridhar
http://stage.itp.nyu.edu/~ss3546/Wearables
Two skirts use radio frequency detection to mimic each other's colors when in close proximity.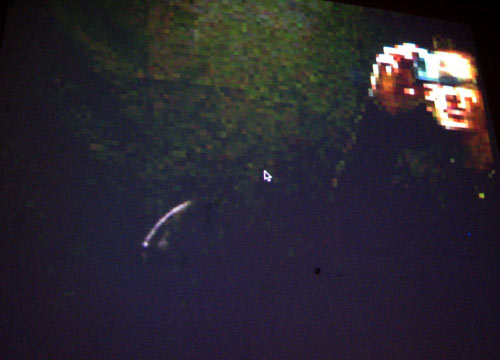 NYC Wind Portrait
Marta Lwin, Noah Shibley
http://stage.itp.nyu.edu/~mjl359/cgi-bin/windFIN.pl
Simple, sweet and effective video still capture of visitor, with pixels breaking up and flying away according to current NYC wind data.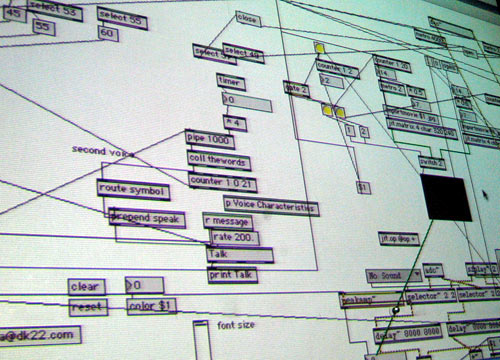 cell.SPACE
Dana Karwas
http://www.dk22.com/x.html
Text messages are rapped back to the user with photos and live image graphics.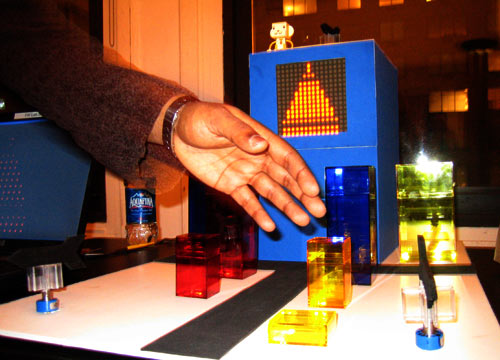 Wireless Wind
Inshan Khairullah
http://stage.itp.nyu.edu/~ik368/wireless
A fascinating start on wind visualization exploration.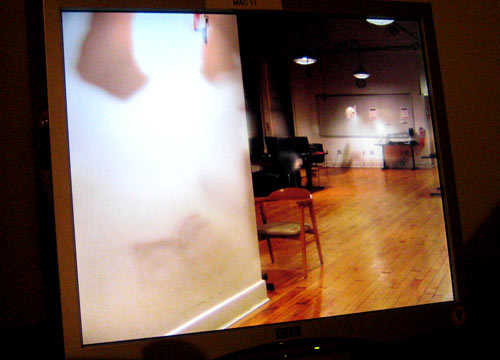 Predatory Mirror
Abraham Burmeister
Spooky-cool video superimposition of visitor and stripped-out background. Ghostworld.