Transversing Design Now
A review of the 3rd Cooper-Hewitt Triennial
By Alex Terzich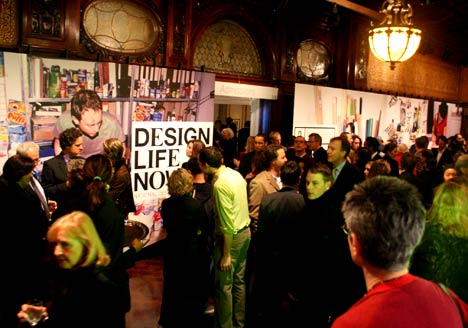 If you make your way to see Design Life Now, the third installment of the National Design Triennial at the Cooper-Hewitt, prepare for a cloud of interrelated projects that defy distinct disciplinary divisions. The atmosphere of the show confronts you from 91st Street: Ken Smith's site-specific installation Triennial Wallflowers hangs from the cornice of Andrew Carnegie's 1902 mansion, veiling the mannerly stonework. It's a scrim of high-performance, orange construction fence irregularly patterned with a poppy floral motif. A simple enough creation, but how do we resolve it as a work of design? Smith is a landscape architect, but obviously this isn't landscape architecture. It's kind of like a curtain, or maybe it's more of a wallpaper. But it's on the outside of the building, so should we call it a facade? This is the sort of ambiguation that has characterized the Triennial (and irritated visitors expecting an unblurred typological structure) since the inaugural exhibition in 2000. Now in its third installment, it can be seen as an enterprise defined by a nebulous core, its installations always resisting reductive categorizations and prompting interdisciplinary linkages.
On this turn, as with the last, the curators chose to avoid any overt thematic structure, seemingly accepting the impossibility of restricting polydimensional projects to any kind of fixed divisions.
"The themes slither through one another like a series of spinoffs and mergers," is how New York Times design writer Herbert Muschamp criticized the show back in 2000, when the material was loosely organized around a dictionary of ideas: fluid, reclaimed, physical, minimal, local, branded, narrative and unbelievable. It was an approach that problematically traded one set of categories (architecture, fashion, furniture, illustration) for another. On this turn, as with the last, the curators chose to avoid any overt thematic structure, seemingly accepting the impossibility of restricting polydimensional projects to any kind of fixed divisions. Instead, the team of curators—Barbara Bloemink, Ellen Lupton and Matilda McQuaid from the Cooper-Hewitt along with Brooke Hodge of The Museum of Contemporary Art, Los Angeles—give us a set of interlocking motifs with most projects residing in the overlap.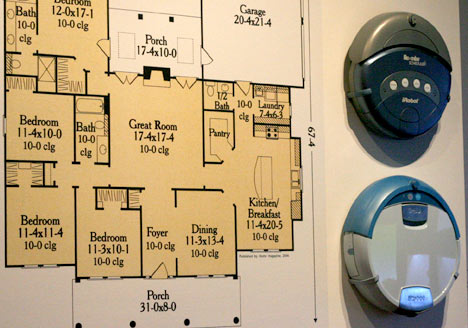 iRobot by roboticists
According to the press release and catalog, there are "four principal ideas" that structured the choices for this Triennial: emulating life; community; hand-crafted and do-it-yourself design; and transformation. For better or worse, these core concepts aren't overtly represented spatially or textually within the museum. By veiling its generative logic and sidestepping the pitfalls of pigeon-holing (e.g., Should the iRobot Roomba represent transformation or emulating life?), the curators produce a show that is challenging and muddled for an entry-level audience wanting a coherent narrative about the current state of American design. For a designer, though, the result is an inspiring kind of free-range zoo where distant species of products are left to mingle, cohabitate and interbreed. I think it's great creative fodder, and I hope designers applaud the broad, extra-disciplinary exposure it offers and bring a spirit of re-invention to it, rather than gripe about exclusions or thematic ambiguity.

Exhbition website tagmap
Meta(morphosis)
That said, there's plenty more that the exhibition team could have done to enhance the creative opportunities of the show. While I found the exhibition website's adoption of tags (chosen keywords used to describe the scope of each designer's work) to be an exciting alternative to the classification conundrum that results from work that just won't fit snugly into any one category, the tags themselves are maddeningly conventional. The exhibition tag cloud, where size differential relates to frequency of use, gives us a look under the hood of the show. The predictable dominance of "New York" and "product design" betrays an order where the so-called broad scope of projects offers fewer surprises than the curators might hope. It's also heavy on the denotative tags but pretty light on the connotative tags. It's an approach that might appeal more to administrators than designers. If we cut away the geography (e.g., New York, Italy, Sri Lanka), eliminate physical commercial goods (chair, iPod, menswear), job fields (product design, architecture, advertising) and so on until the set is reduced to the kind of connotative attributes that cut laterally across disciplines and open up productive associations—all we're left with are a few small tags. A more extensive and adventurous tag set would have helped link distant practices, drawing out affinities between projects that are only implied.


Edna Mode from the incredibles by Pixar & Gorillaz figure by Kidrobot
Surely the Trienniel shouldn't be judged for something as peripheral as its metadata. And yet, the inclusion of tags (even in such a conservative and simplified approach) manifests the ongoing strengths of the show—the resistance to singular categorization, emphasis on interdisciplinary practice, far-ranging inspiration and the hypertextual spirit of the work. For all this potential, it's hard to understand why biomimicry, one of the bywords of the exhibition, is tagged to only Joseph Ayers. His Robolobster is a DARPA-sponsored, reverse engineered, autonomous crustacean used for undesirable underwater activities like mine location and pollution spotting. It's the most orthodox example of biomimicry in the show, but it's surely not alone.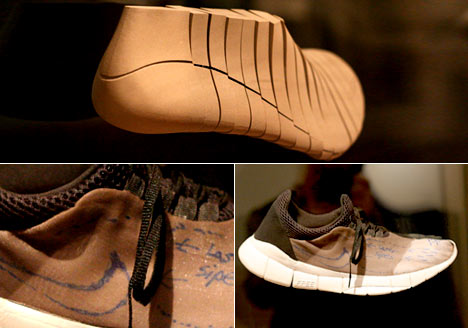 Nike Free 5.0
At first glance, the Nike Free 5.0 athletic shoe is just another catchy example of product styling. A closer reading reveals that the articulated sole results from the study of athletes running barefoot. The shoe represents a biomimetic approach that seeks to reproduce the performative strengths of a biological model—in this case, the range of motion, flex and grip of the human foot-rather than mirror its form.
No doubt, Nike has been included as much for its process as its products. The Innovation Kitchen, Nike's footwear skunkworks, is the paragon of a sprawling hypertextual design model where the influences are said to include Mexican embroidery, Stradivarius violins and traditional Irish architecture. In fact, biomimicry is just one embodiment of Nike's lateral design vision where seemingly nothing is off limits in the search for performative and aesthetic prototypes. There are a number of projects that resonate with this transversal model, and it's here that I found the show to be at its strongest.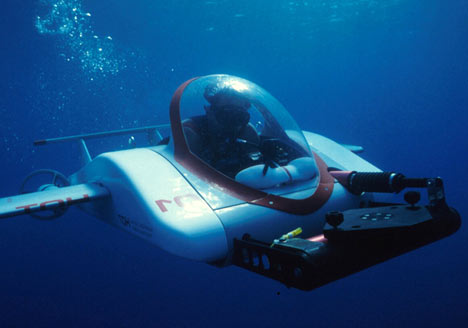 Deep Flight by Graham Hawkes
Graham Hawkes' Deep Flight is a winged underwater craft that looks more like a military spy plane than a typical deep-sea probe. The curators present it in terms of a paradigm shift—the replacement of a cumbersome elevator (where the craft sinks to a certain depth and only then moves horizontally) with an airplane able to flit through the hydrosphere.
If only the museum itself allowed such effortless movement. Unfortunately the Cooper-Hewitt hasn't acted on Peter Hall's recommendation (following the first Triennial) that it "evacuate this wholly inappropriate building" and take up residence in a space with more flex. It's too easy to mistakenly overlook the ad hoc basement space, which hosts some great projects and is substantially surfaced with Abhinand Lath's SensiTile, a vexing new material developed while he was an architecture student at the University of Michigan. Inspired by the dynamic play of light in bamboo forests, Lath developed a passively responsive tile comprised of imbedded fiber optics that displace light and shadow across its surface. Moving around it produces a delightful and unexpected effect, like something Theremin could have cooked up.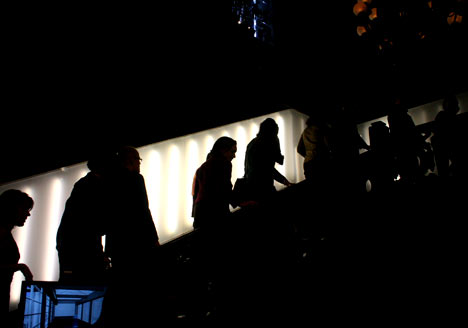 Site specific lighting installation by Electroland
Electroland uses a heavier hand in its responsive installation along the side of the main stair, where visitors trigger a sequence of fluorescent tubes. Regardless, the commission for a site-specific piece at this transition is a commendable effort to help smooth out the otherwise calcified interior of the Cooper-Hewitt. Let it lead you upstairs, where three projects stand out as examples of interwoven design ideas in the fields of architecture, furniture, car design and urbanism.
While I found the exhibition website's adoption of tags to be an exciting alternative to the classification conundrum that results from work that just won't fit snugly into any one category, the tags themselves are maddeningly conventional.
Evolutions and Adaptations
It seems Herman Miller has undergone its own paradigm shift in its rethinking of the spatial model of the office. Credited for the introduction of the cubicle in the 1960s—a by-product of enthusiasm about isotropic, column-free interiors—the research and development effort at Herman Miller is now re-directed toward finding alternatives to so many undifferentiated cube farms. The company's New Office Landscape takes off from the ideas of New Urbanism, an urban design movement that sees traditional city form as an antidote to the social and ecological breakdowns precipitated by sprawl. The components of the New Office Landscape system produce shared social environments that are permeable and at least materially inviting. While a welcome revision, what may actually undercut the success of the system is an underlying contradiction: the components have an uncanny resemblance to cul-de-sacs, which New Urbanists condemn as urban clique-makers that are detrimental to community.


Feral Robotic Dogs by Natalie Jeremijenko & Poster by Nicholas Blechma
While Herman Miller looks to urban models for inspiration in a line of office furnishings, Charlie Lazor has taken his experience with the furniture industry (Lazor is a co-founder of Blu Dot) and retooled it to apply to prefabricated housing. The FlatPak House offered by Lazor Office adapts the logics of an Eames storage unit—simplicity, configurability, ease of delivery—and packages it for the Ikea generation. On the other side of the prefab coin is Craig Konyk's up! house, which targets car fetishists by playing up a tube chassis, high gloss body, tinted windows and optional moon roof. Fully embracing car culture (and critiquing the plodding architecture and construction industries), Craig Konyk's aim is "to make the purchase of a single-family house akin to buying a Mini Cooper."
Granted, there's a danger of falling prey to empty rhetoric when looking to other fields for inspiration and innovation. The description of Narcisco Rodriguez's womenswear is a painful example of just this: "In his iconic Seagram Building, [Ludwig Mies van der Rohe] exposed and emphasized the simple beauty of the building's structural I-beams, expressing his belief that less is often more. Rodriguez shares that belief: he strips his garments of any extraneous detail and lets the seams of his meticulously constructed clothes serve as the only form of ornament." It's a valiant effort to bring depth to work that's elegant but simply unexciting. Rodriguez's only two tags are fashion and New York; this time, the sparsity of tags is for the best.
The spirit of cross-pollination that permeates the show is bolstered by Make, a magazine that compiles techniques to hack, customize and re-invent the products around us. It has an ethos of accessibility, with one of its founding commandments being "screws better than glues." It's a project that resonates with Google, also featured in the Triennial for the way it has globally transformed access to information. Incidentally, Google just launched a patent search tool on December 14th, enabling even broader access to what's under the hood of American design now. This is news that would have pleased Genrich Altschuller, an innovative lateralist who felt that broad exposure to other industries was the key to unlocking innovation in the problem at hand, and a figure who is in many ways one of the lodestars of the Triennial project.
Alex Terzich is a teaching and research Fellow with the University of Minnesota Design Institute. He's a former associate of the architecture practice Lewis.Tsurumaki.Lewis, where he worked on a range of projects, including an exhibition for the 9th Venice Architecture Biennale in 2004, a line of wallpaper for KnollTextiles and a permanent art installation for Memorial Sloan-Kettering Cancer Center. He can be reached at
terzich-at-gmail.com.