Pedal to the Mettle:
The unbelievable, true story of Automoblox
by Patrick Calello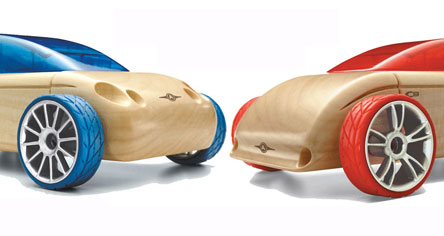 Many of us can recall the pride we felt the first time we spotted a product that we had a hand in designing sitting on a store shelf. And this pride turns to absolute
nirvana
when that product is
your product
—something that you've brought to market completely born of your vision and manufactured by your own company.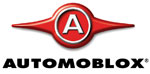 The story I'm about to share with you chronicles my journey with Automoblox®, a product that started out as a school project and ultimately turned into a full-time obsession.
My
road to nirvana was a dark and bumpy one, fraught with emotions that ranged from exhaustion and panic to frustration and rage. But the day I delivered the first order for Automblox to a small toy store in Darien, Connecticut was a day that rivals only the day that my daughter was born.
"Once inside, the stench of toxic fumes coming from the painting and staining rooms was difficult to stomach. Not a single person wore a protective mask. As we moved through the factory, I asked to see the shop where they formed the wood, which turned out to be a treacherous walk through construction rubble."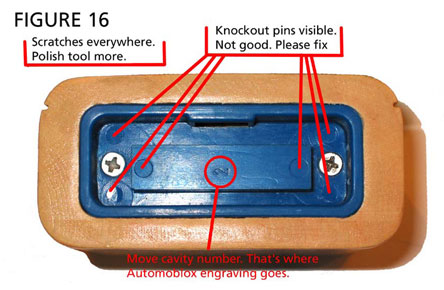 The starting line
The high school I attended didn't present awards for "most likely to design stuff." Nonetheless, I was pretty good at it (for an 18-year-old) and headed to Carnegie Mellon University to study graphic design. Fortunately for me, CMU lumped together aspiring artists and aspiring designers into a basic Art School where students were exposed to art, 2D and 3D design. Like many of us, it was in a basic 3D design class where I first learned of the Industrial Design profession—a turning point for me. My future took on a new direction as I abandoned graphic design and pursued a future in I.D.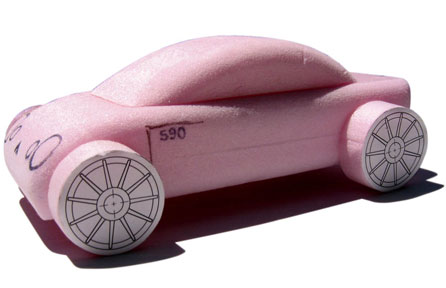 During the fall of my senior year, a local wood manufacturer came to campus, offering to sponsor a project challenging students to come up with new products for the wooden hobby market. Being a car-guy, I immediately rolled up my sleeves and worked on a novel wooden car concept. Soon after, the wooden car idea evolved into a modular wooden toy system—one that inspired children to design their own cars instead of simply duplicating an image displayed on a package. I was intrigued with the idea of an interchangeable toy system that would be both fun and educational, and with one semester left until graduation, I developed the first Automblox prototypes during that class.
Along with the design development, I spent much of my final semester in 1993 discovering that it was going to take more than a business minor to bring my vision of Automoblox to market. A cousin who had contacts in the toy industry put me in touch with a retired buyer from Toys R Us, who, while impressed with my wooden cars, advised me that they would need to retail for the low price of $14.99. At that price, I couldn't see any possiblility of my making money on the project, and, stepping back from the cut-throad nature of the toy world, shelved the Automoblox idea, deciding to take a safer, more familiar road for awhile.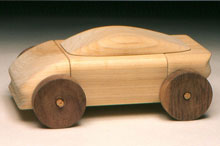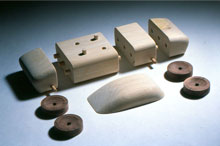 From Andrew Carnegie to Dale Carnegie
I worked as a freelance I.D. guy for a couple of years and eventually landed a job at PharmaDesign, a company that makes custom promotional items for the pharmaceutical industry. Working there, I learned first-hand about rapid and efficient Far East product development. Our design process involved creating massive numbers of computer renderings that our sales force would use as tools to pitch our custom designs. To potential buyers, the renderings appeared to be actual, existing products. When we received an order, we'd jump through all the necessary hoops to actually have the product made and deliver the manufactured piece in a timely manner. This model—where only limited investment is made up front—opened my eyes to how products could be efficiently produced in the Far East.
I moved on from PharmaDesign to a position at Colgate-Palmolive, where I was baptized into the corporate world and exposed to consumer research and the power of brands. I was surrounded by some of the brightest MBAs in the world and learned to begin thinking as much like a marketer as a designer. I took advantage of the knowledge and expertise around me and always kept my entrepreneurial eyes and ears open. I had a great mentor and friend in Jay Crawford, who taught me that there's no shortage of good ideas; the challenge is to translate the ideas to business success. That success comes from vital project and people management skills, hard work, and the power of persuasion.
"At this juncture and at the height of my anxiety, I felt it was necessary for me to leave my position at Colgate; a week later I was on a plane to China."
While working at Colgate, my toy idea began to take shape. During my long commute to the city, I would occupy my time reading books about visionaries like Benjamin Franklin, Abraham Lincoln, Alfred Sloan and Sam Walton. I began to spend nearly every night working on the development and business plan for Automoblox, and after four years of balancing the demands and responsibilities of my job and my family, I knew that if I was to make Automoblox really come to life, I needed to go at it full time. And so I did.
To be continued...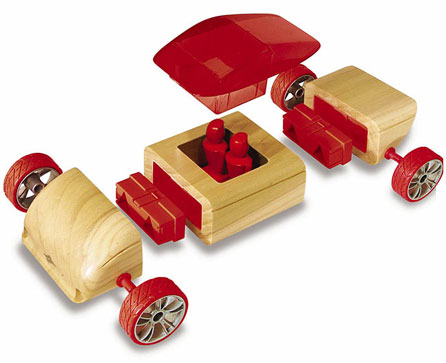 As an entrepreneur, your roles expand exponentially and change by the moment. Sure, you're the President and CEO, but pursuing your own gig means you're also a Marketing Project Manager, Product Development Manager, Supply Chain Manager, Design Director, Public Relations Manager, Business Development Manager, Director of Customer Service, Mechanical Engineer, and a Lawyer...among other things. You won't have the competence needed in these areas, so you'd better have access to people who do. I have been blessed with a network of professional colleagues that were vital to this project, and my wife, Susan, can step into many roles when she's not changing diapers and chasing our two-year-old.
A good friend, Brett Marshall, called to tell me about a book he had just finished called
The Mouse Driver Chronicles
. He said that while reading the book, he was constantly reminded of me and my toy car project. I immediately went out and picked up a copy. It was written by John Lusk and Kyle Harrison, two Wharton MBAs who, upon graduation in 1999, took a pass on high-paying dot-com jobs and instead decided to manufacture and market a product (a computer mouse designed to look like a golf-club head) they dreamed up during their entrepreneurship class. With some seed money from their professor and tons of their own, they set up shop and were quickly in business. Their success was modest by their own account, but they did develop an impressive following. An e-mail update to some friends turned into a web journal that eventually became course material for entrepreneurship clases around the country, and, before long, guest lecture gigs turned into a book deal.
At the conclusion of the book, Lusk and Harrison welcomed people with new product ideas to contact them for advice. Not shy and always willing to take advantage of an intriguing offer, I promptly contacted them. At this point in the evolution of Automoblox, I was still at Colgate, and I had yet to select a supplier for the line. The three initial Automoblox products required quite a bit of tooling, which meant that a significant capital expenditure was needed to get started. Lusk and Harrison had positive experiences with their supplier, and suggested I contact the company for a quote.
next
»