A Designer's Illustrator; a Comic's Comic:
An Interview with Dan Yaccarino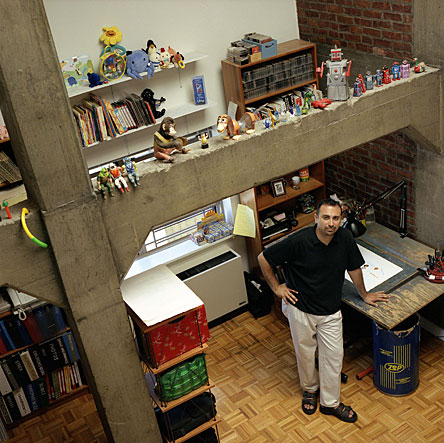 Dan Yaccarino is an internationally celebrated illustrator and writer. His children's books—translated into Japanese, Korean, Italian, Spanish, French, Hebrew and Chinese—have won numerous awards, and his television series, Oswald, is currently in heavy rotation on Noggin. An avid toy collector, Dan's work is informed by a modern design sensibility and a Modernist-like reduction of elements. Core77 invited Dan to chat about his projects and the role of design in his work.




Illustrations for Core77. Click to enlarge
C77: Dan, you've got about a million projects going right now, from books to games to television to movies. And there have been a couple illustrators who have been able to navigate all these media, but maybe you can tell us a little about your history and how your work has evolved up to this point?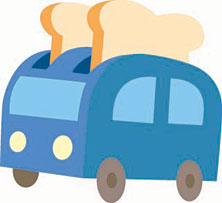 DY: I guess that my interest has always been in creating images and telling stories. All of the things I've been doing over the last 17 years have just been extensions of that.
I began my career about a year after I graduated from Parsons School of Design in NYC in 1987. I was an editorial illustrator in the first few years. I basically relayed the gist of a magazine article in a single illustration. The deadlines were tight, so I learned to work fast and I enjoyed the challenge of telling a story in a single image. I worked for dozens of magazines, from Time Magazine to Rolling Stone.
A few years later I got into children's books through being introduced to an editor. I showed him my portfolio thinking I'd get a manuscript to illustrate, but ended up writing my own instead. At first I did it so I wouldn't have to share the advance with a writer but I soon found out that I enjoyed writing picture books. Now I was telling a story using several images and some text.
After I had several picture books under my belt, the next step was to move to story books and chapter books, which I both wrote and illustrated. I was gaining confidence in my writing and illustrating, and this was an opportunity to tell more detailed stories. (At the moment, I am putting together a proposal for a graphic novel, moving into even more complex territory.)
I felt that the natural progression from books was to television, so I created Oswald. Nickelodeon picked it up and I learned how to write, direct and produce an animated series. Now I was telling stories using moving images, dialogue, acting, camera angles, sound effects and music. I also had to learn how to manage people—which I never really did before since I primarily worked alone. It was quite an education. I am currently working on a few new television projects that I'm excited about.
Looking for a new challenge, I turned to feature films. I've taken some of my existing books and adapted them as screenplays. I've also been working on some original ideas for film as well. Several projects have been optioned and I'm keeping my fingers crossed. But as elaborate as it is, film is just another way to tell a story.

C77: Well, let's talk about Oswald a bit here. One of the wonderful things about the series is how you have incorporated products and product design into the settings and props of the stories—in a weird way almost anthropomorphizing them as characters themselves. The toaster car, for example, or your gumball machine buildings. Can you describe how you came to employ these kinds of devices and how they helped you create context and, in a sense, sentiment?
DY: I wanted to create a totally unique world that had never been in an animated show before. However, I didn't just sit down and deliberately come up with the idea of turning objects into buildings or vehicles. As with the creation of the characters, the ideas just flowed...it was a very organic process.
My intention was to create a show that I would have enjoyed when I was a kid. I wanted Oswald's world to be built on pure imagination but still remain very concrete. I can't remember having any other ideas regarding Big City other than what ended up in the show. It all sort of came together and made complete sense to me. I think the whole thing holds together quite nicely looking back on it now. I think it's because I played everything very straight—I didn't want to call attention to the fact that there were lemon taxis driving by or that the characters were animals and fantasy creatures. The characters just accepted it all, and then, in turn, so did the viewers.
Some of the writers suggested things like making the snowman melt. I thought it was a terrible idea that would totally destroy the reality of the entire show. If Johnny Snowman melted, then every other character, as well as every building, vehicle, etc. would be subject to the same reality. I kept telling the writers to treat Oswald like a person in an octopus suit; the vehicles as vehicles and the object buildings as just buildings.
Because of this, I was able to tell some really great stories involving real characters. I think a lot of the show's charm lies in the colors and the music. The music really gave it a lovely quality that I just don't see in other shows for children or adults.
It was a wonderful experience and I'm very proud of the show.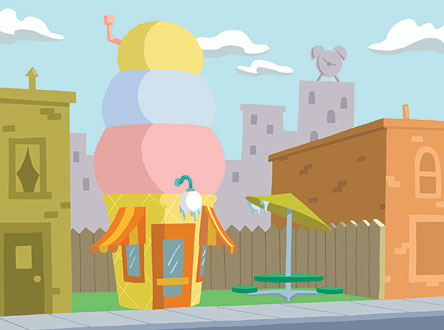 C77: Well, that's an interesting point about playing it straight with your characters—lack of artifice is probably exactly what sets Oswald apart from other works in its genre. But you come by your design aesthetic partly from a love of Modern design as well. Are you a collector?
DY: I have a few reproductions of mid century furniture as well as some other things like clocks and knickknacks. I just love the designs of Ray and Charles Eames and Herman Miller.
I wanted to bring that simple but sophisticated design sense to Oswald. And I wanted to bring my love of toys to it as well. I collect toys of all sorts, mostly ones from my childhood (the ones my mother threw out). I wanted to create characters that reflected the toys that I love so much. The show generated some wonderful toys which was a dream come true for me. I remember how much joy my own toys gave me as a child, and now, hopefully, I'm giving that experience to some children today.
C77: But is it true that you sent your production team Herman Miller furniture books with Post-its in them as a kind of mood board?
DY: I sent over some books on Eames, Miller and mid-century design to the production company I'm working with for a show based on my book,
An Octopus Followed Me Home
. They really had a great time incorporating the furniture and patterns into the general design of the show.
C77: Tell us a little bit more about your experiences moving your creations into the third and fourth dimension.
DY: Before I created and produced Oswald, I wrote and illustrated a few children's books as well as illustrated for many magazines. For the most part, I worked alone except for my interactions with art directors and editors. I certainly never worked outside of my studio or with a crew of people under me—let alone in animation.
After Nickelodeon decided to option Oswald and pay for a pilot, I was thrust into a position of being the creative leader in charge of a whole team of very talented people at an animation studio in Burbank. Needless to say, I had a lot to learn. I was not accustomed to any of this, but I wanted to see my idea get on the air so I watched and absorbed it all.
The hardest thing I had to do was to let go of certain things. For practical purposes, I would not be able to do everything. I discovered early on that the most important part of my job was to recognize and hire the right people. If the show were to get off the ground, I had to be able to trust and rely on my crew to do the best job they could while I oversaw the entire production. I eventually discovered that I enjoyed being in that position and really liked working with others. I also learned how a show is put together and what the process is. I wrote a lot of the scripts either myself or with the story editor and various writers. I oversaw and made notes on the storyboards, the animatics (a filmed version of the storyboard to work out timing), the music and where it was placed, the prop, background and character designs, the color, the animation, the sound effects and the editing. I also directed the actors myself for the first dozen or so episodes. I had a vision and I guided the show, but I was not able to do it all—nor do I think I would ever want to. I really enjoyed producing the show but I know it's not everyone's cup of tea.
Since Nickelodeon owned the show, I was not able to license it myself. However, I was in the approval process for products that were based on the show which was fun. There were many books and apparel. There were also some toys which was thrilling since I collect toys. It was really exciting for me when I saw the Oswald toys in a shop window in Tokyo. It was a real moment for me.
However, I must say that it was most thrilling to see the first pieces of animation from the show. It was like no other experience in the world. It was as if Oswald came to life! I was so excited! The only other thrill that comes close to that was to see Oswald on TV for the first time. I don't think that I can experience a feeling like that ever again. It was a high watermark in my career and for me personally.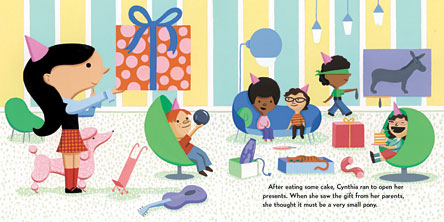 C77: So give us a rundown on Blast Off Boy and The Birthday Fish projects. What's on the immediate cooker?
DY: I wanted to create a book series for an audience somewhat older than my other books. But most importantly, I wanted to create a series that I would've wanted to read when I was a kid. Of course, it would have to have lots of humor. And I also have a great affection for science fiction. So I combined the two and came up with the
Blast Off Boy
and
Blorp
series. It's about a little boy who is chosen to be the first intergalactic exchange student to a newly-discovered planet. The reason why he was chosen was not because he was a genius or particularly smart, but that he was statistically the most average kid on Earth. In turn, the alien planet sent a little alien boy to live on Earth. I wanted to put two characters with extremely different personalities into similar situations and see what happens. In the first book,
First Day On A Strange New Planet
, they both have to get through their first day of school, in the second book,
New Pet
, they both acquire animals they must care for. And in
The Big Science Fair
, they each have to make a science project. I am currently in talks to develop it for television. I also created a web site for it,
www.blastoffboy.com
.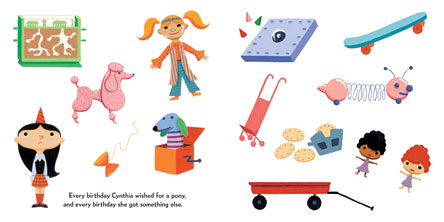 The Birthday Fish
is my new picture book that is coming out in June by Henry Holt and Co. It's an idea I'd been playing with for a long time. About two and a half years ago, I sat down and finally fleshed it out. It's a simple story about a little girl who wished for a pony but got a goldfish instead. A lot of my books have been described as "retro-futuristic" because of my love of 50's motifs. With this book, I decided to move ahead in time a bit and have it set in the early 70's—my childhood. I had a great time working in 70's era patterns and toys I remember or had as a kid.
As for future book projects, I am about to start work on a HUGE book for Scholastic titled
Go Go America
. I finally completed the first draft of a YA novel I've been working on for a few years, putting together a proposal for a YA series, working out a basic story line for a graphic novel and putting the finishing touches on some picture book manuscripts. As for film and television, I just completed an animated pilot for Disney, developing an idea for a series with Cartoon Network, pitching several other animated series and feature films—some based on my books. I'm also collaborating on a CD with the children's musician, Brady Rymer. Then there's all of the illustration work. Phew! I get exhausted just talking about all of this!
---
To learn more about Dan Yaccarino and his work, visit www.danyaccarino.com.

Design Icon illustrations for Core77: ©2005 by Dan Yaccarino Inc.
Yaccarino Studio Photo: Kamron Hinatsu.
Oswald images: ©2001 HIT Entertainment and Viacom International Inc. All rights reserved. Nickelodeon, Nick Jr., Oswald and all related titles, logos and characters are trademarks of Viacom International Inc.
Artwork from the forthcoming book, The Birthday Fish, written and illustrated by Dan Yaccarino. ©2005 by Dan Yaccarino Inc.