Postcards from Palm Springs:
Modern Gems in the Desert
By Michael DiTullo & Kristina DiTullo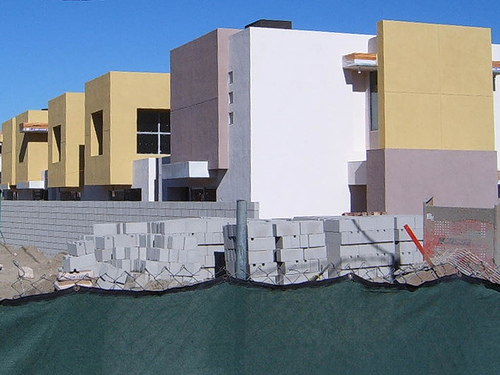 Right after Thanksgiving, we took advantage of a slow work week and flew to Palm Springs on a total whim. We were tired of the Portland rain, and we thought a trip to the California sun--for two mid-century architecture nerds--would be the perfect mid-holiday getaway. And it was.
We were expecting Aspen-in-the-desert, but (thankfully) what we found was decidedly un-Aspen. Palm Springs started as a Hollywood hideaway, and they weren't kidding: you'll find that it is an extremely low-key, down-to-earth place. And in early December, it's like visiting a tourist spot in the off-season. Except that the McMansion summer homes are replaced by Wexler's and Neutra's. Designer nirvana? Not quite, but close.
Palm Springs is full of great places to stay, each claiming rooms that Marilyn, Elvis, and James Dean have stayed in, so you can't miss there. We chose the Viceroy--originally comprised of 2 small motels and a collection of bungalows--the properties now owned by the Klimpton Group and redecorated by designer Kelly Wearstler. Completely by chance, a Dwell Magazine conference happened to be in town, booking up all the cheap rooms. But Don--ever full of smiles--informed us that we would be bumped up to a villa at no extra charge. Nice. The décor is classic Wearstler: early 60's mod/glam. The Citron restaurant and lounge serve great food and strong drinks. (The Estrella Spa is great and strong too!) But possibly the best feature of the hotel is George, a retired architect who works at the front desk and can arm you with all the history and directions you'll need. So equipped with a serious briefing, we set out on our driving tour of Palm Springs' finest modern architecture.
First and most famously was Neutra's Kaufman House, built in 1946. Clean and understated, it is more timeless than Wright's work; bold and integrated into the land, it is more elegant than anything that came out of the Bauhaus. There are two other Neutra houses in town, but this is the best. Around the corner is the Lowey House. Then directly surrounding these are other modern homes from the 40's, 50's and 60's--still in mint condition.
Indeed, Palm Springs has recently developed a dedicated group of modern preservationists--many of the mid-century houses were destined to be torn down and replaced by Spanish and Italian villas. In 2002, the Maslon House, designed by Neutra, was demolished in secret during the night just a few years ago, (despite protesters), and this act ignited American Modern preservation in Palm Springs.
The next stop from George's agenda put us downtown. Relatively unglamorous, it looks like a five-mile stretch of strip mall. But tucked into the never-ending, laser-straight line of one-story shops, we were surprised by some beautiful, modern public buildings, especially on the East side of town. Chief among them is the Bank of America building. It's a total knock-off of a Le Corbusier, but it is still stunning. George warned us not to miss the Washington Mutual building across the street, composed of an exquisite series of inverted arches.
In town, there is a healthy scattering of consignment and antique stores, each offering the best of what originally lived in all of these mid-century homes. Piled high are original Eames chairs and various Bauhaus pieces. Most of the stores look like the contents of a design museum packed into a room, and digging through the old electronics, kitchen appliances, and mod bric-a-brac was a daylong task, but also a great pleasure.
Next we headed over to the North side of town--the Elizabeth Park neighborhood--made up of over 20 blocks of Alexander-built homes, many designed by Donald Wexler. Originally constructed as affordable housing and vacation homes, lots of these small houses are not insulated, but have huge, classic swimming pools. Many are extremely run down and dilapidated; it's an odd sight to see the future in disrepair. And as little as 4 years ago you could pick up one of these butterfly-roofed beauties for under $100,000. They have recently come into vogue, however. (30-something LA folks who can't afford houses in LA, but who can get a piece of mid-century modern for a song.) So about 25% have been beautifully renovated, and those go for an average of just under a half a million. But you get that pool.
Driving away from town we stumbled upon some of the tour highlights of the Dwell Conference. To our surprise, the magazine was not only there for the classic homes; Dwell was promoting what some builders were calling New Century Architecture. On the outskirts of town, a half-dozen new developments are under construction, taking the best from contemporary urban planning and accessible design, but staying true to the roots of Palm Springs. To us, they look straight out of a Mies van der Rohe sketchbook.
Just a bit farther, we took a few minutes and pulled over to walk through the windmill farm. We had never seen one this big in the United States, and the mills tower over you. Some are brand new and gleaming, others from the 1970's. From the ground, they seem arranged in random rows and formations; we go ahead get lost among them.
Another 45 minutes drive and we're in the Joshua Tree National Park. We planned to stay for a couple of hours, but the natural wonder changed our minds. The moon was full that night, and the park was breathtaking. Peaceful, serene, perfect.
On our last day, we dropped into the Palm Springs Art Museum. (It is an awkward, Brutalist structure, but the collection boasted a Rothko, Duane Hanson, and several Helen Lundeberg's. The Jim Isermann piece as you ascend the stairs is amazing.) And here's the irony: At the time we were there, the Museum had a show of modern architecture from around the world, packed with architects' sketches and huge models. A fitting bookend to an inspiring vacation.
Further resources:
Places to stay:
Places to live:
Places to see:
Places to Shop:
Michael Ditullo is a designer at Nike and a frequent core77 contributor. Kristina DiTullo is an abstract modern artist who's work has been shown at Design Within Reach. They are both architecture nerds and live on the outskirts of Portland, Oregon.