Taking the Middle Ground:
Massive design for the masses?
by Carl Alviani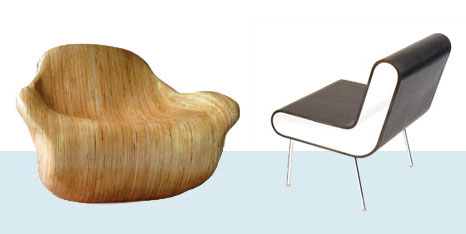 American Design, it's been pointed out recently, is going through an identity crisis. It has been for a while, in fact, possibly since the invention of America, or of the invention of design as an abstract concept, whichever came first. While it might be difficult to succinctly describe what it is that makes an Italian-designed blender or chair uniquely Italian, it's infinitely harder to make the same effort on behalf of an American designed equivalent.

Perhaps the closest we could get would be the cheerful, solid lines of a 1950s Chevy or an informally elegant Russell Wright teapot. So the mid-century is taken care of, perhaps. But in any decade since then, it seems that if something is "designed" it's from somewhere else. Usually Europe, maybe Japan. This has been a widely perceived truth for a long time.

What's new is the degree to which designers, and lately manufacturers, consider this an issue worth addressing; and address it they do. Design schools are expanding and new ones being founded, advertising campaigns shout Design! as if it were a newly invented word, and the business or news magazine that hasn't done at least one cover story on How Design Will Change Business is a rare one indeed. So plenty of people with skill and money agree that American Design is important. The identity crisis persists though, not for lack of attention, but lack of agreement.

On the one hand, there is the concept of design as beauty, cleverness, transcendence or functional art. This is the romantic view, the view that expects an object to touch the soul, enlighten the mind, express the inexpressible, and so on. You might have learned about this in school, or if you have a lot of money you might espouse it yourself. The business model for this kind of design requires a relatively small number of wealthy people, and a culture that convinces them to spend on a small number of deeply thought-out objects.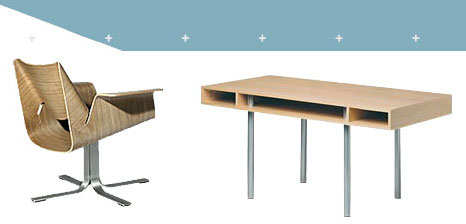 On the other hand, there is the concept of design as added value, problem-solving, or brand-differentiating. This is the pragmatic view that expects return on investment, in the form of greater utility or appeal. The business model for this kind of design is that of the open marketplace, in which a large number of consumers look at a large number of products and pick the one they think best serves their needs at the best value. It aims to justify a slightly higher price by being an obviously better object.

These are not different types of design, it should be stressed, they are different concepts of what design is, and what it's good for. It is possible and in fact preferable to create objects that can thrive in both markets…but unfortunately it's also very difficult. The good news is that they are just two ends of a spectrum, and that opportunities exist in between. Unfortunately for American Design and American consumers, very few companies actively seek that middle ground. The few that are, though, have been making a lot of money lately.

An Enormously Conscious Decision
Maurice Blanks is a pretty busy man these days. As a founding partner of Minneapolis-based Blu Dot, he's helping to run one of the few design-driven furniture companies in America that is actively seeking to sell to middle America—and succeeding wildly at it. Blu Dot doubled in size and sales in the last fiscal year, and has enjoyed sustained growth of 40 to 60 percent since they first opened their studio in 1996.

William Hamilton of The New York Times recently described them as "the General Motors of accessible design" in his assessment of the latest ICFF, where Blu Dot has occupied a prominent booth every year since 1997. Although meant partially as a critique of the lack of cutting edge exhibits at this year's fair, Blanks is taking the quote as evidence of their success. "It was an enormously conscious decision," he says of Blu Dot's founding, "to bring higher design to a larger market…this is essentially what GM did for cars in the 1950s." Blu Dot is also one of only two furniture companies to have a major recurring presence at both the ICFF and the much larger High Point International Home Furnishing Market in North Carolina (Umbra is the other).





If you're trying to make money in the furniture business, it might come as a surprise that this kind of dual representation is such an anomaly. The ICFF is about unveiling interesting concepts, and High Point is about moving product, so it should be in a manufacturer's interest to address both—yet the prevailing wisdom is that the "commodity" market and the "design" market are mutually exclusive. It's generally accepted that commodity furniture deals in established designs, competing primarily through price, quality and marketing; in other words, how well the business is run, rather than how good the design is.

One reason product designers are so reluctant to join in this price-conscious market is the prospect of letting the business aspect take precedence over the design aspect. Blu Dot's strategy has been to treat the whole product cycle—from concept, to prototype, to manufacturing, marketing and distribution—as one enormous design challenge. "We never saw the business part as a stepchild of the company," Blanks explains, "We're always aware that without the business side, the design side would wither...we do the sourcing and distributing ourselves, because it gives us much more control over the final product."

This all-encompassing approach has had a clearly positive impact on the design of new products, getting the designers involved in production and receiving feedback from the market, then incorporating this experience into the next round. "When you're on the front lines of getting your stuff made, you naturally start to think about the design process...how to solve these problems earlier in the cycle. In the end, I think this is what attracts retailers to us." This reputation, and Blu Dot's brand, is now so well established that the once arduous task of seeking out independent retailers to carry their goods has turned easy. Retailers now contact them, including several large national chains who have expressed interest in carrying Blu Dot furniture and housewares across the US. Blanks expresses nothing but excitement for this prospect. "The Good Design movement in the 50s was all about 'getting the best to the most for the least,' but they didn't have national retailers like we do today. Our mission is similar to that, but I think the distribution system makes it much more of a possibility now."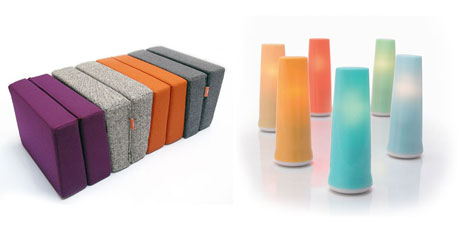 Selfish Reasons
Although they've only been in business since 2001, Boston-based Vessel has found similar success in a similar business model. Like Blu Dot, Vessel was put together by designers who quit their day jobs in order to gain more control over the product development process, and they've similarly aimed at the mid to upper-mid range of the consumer spectrum. They're also being courted by larger retailers after building a solid following based on their penchant for bringing unique and functional items to market, in a country where good design is often seen as a frivolous luxury. And their retail strategy has followed a similar arc, from small niche market to critical acclaim and wider brand recognition through a well-designed, high-profile product: in this case, the Candela rechargeable lamps that co-founder Stephane Barbeau designed in 2000.

Their catalog now features furniture, kitchenware, and dishes in addition to a number of variants on the Candela theme—not massive, but not bad considering their first products hit the shelves just over three years ago. Vessel has more than doubled in size each year since its inception, and has done so without sacrificing its founding goals. "We mostly started this company for selfish reasons," says Barbeau. "We don't consider ourselves cutting edge designers—it's all stuff that we'd use ourselves." The market appeal and critical acclaim their products have received he attributes to the care they take to only do products that don't already exist. Their continued growth owes just as much to pricing and marketing that allows consumers who are drawn in to feel comfortable indulging their fascination.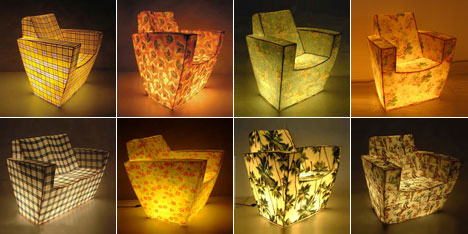 Artist/Capitalist
This "middle path" strategy can also work for more experimental designers as well. Artist and furniture designer Critz Campbell first came to national attention in 2001 with his Eudora chairs. Rigid but ethereal, the seats are made of resin-impregnated vintage fabrics lit from within by fluorescent fixtures, giving a sense of nostalgia and unsettling hard-edged modernity that garnered it a spot at the Cooper-Hewitt in 2003, and significant coverage in the design press. Since then, Campbell has moved back to his native Mississippi, to pursue a new facet of his career, that of mass manufacturer.

"I'm finding that I'm more adept at business and marketing than I expected," Campbell explained over the phone from his office in West Point, Mississippi. After several years dividing his attention between short-run art furniture and licensing designs to larger manufacturers, Campbell has found a place in between. Through his connections in the Chicago design world and those developed while working for Crate & Barrel, he's managed to build a business manufacturing his own designs using existing furniture factories in Mississippi, and sourcing materials from throughout the country. The lower cost of labor and overhead (some processes cost 2/3 less than they did in Chicago) makes it economically viable for him to build his newer Corona and Rode-E lines in runs of 25 pieces at a time, while still giving enough time to work on custom projects. Presently, Campbell's more individualistic work is part of an exhibition at the Knoxville Museum of Art, and he continues to receive commissions for private clients as well.

Though his original customers were mostly collectors and well-heeled design enthusiasts, Campbell's strategy is in other ways similar to Vessel's and Blu Dot's: a consumer base located closer to the economic center than the extremes, a brand built on unique concepts, and a willingness to control the entire process from concept to delivery. What they also have in common is their uncommon-ness.

While working in Chicago, Campbell shared a building with 20 or so artists and designers, and is hard pressed to recall one of them that would even consider taking the leap into production that he did. He owes some of this willingness to his unusual educational background, which includes both art school and several years of craft training in the furniture program at Parnham College in the UK, where fabrication and marketing were considered an integral part of the process. He also owes some of it to his own pragmatic views; says Campbell, "I'm an artist, but I'm also a capitalist." Running his own company, he believes, gives him a creative freedom not often available to American designers.

Dealing with Box Culture
For those in New York City, one of the few places to see Campbell's work in person is at Sublime American Design—not surprising, as Sublime makes a point of carrying work by American designers who might not otherwise have a physical space in which to be seen. Sublime, too, is getting into the limited-run manufacturing business, hoping to expand their market beyond sales to the trade and the pre-educated collector. Stephen Mitchell, who manages much of the daily operation of the showroom, describes their current sales model as an 80/20 affair: 80% of their sales go to 20% of their clients. The customers Mitchell terms "wanderers"—interested parties who stroll in off the street to look around—rarely end up making purchases, and Mitchell sees an opportunity there.

In part, this is because the highly customized limited-run pieces that occupy the showroom are high cost investments, akin to cars or jewelry, that demand a commitment and understanding that take more than a few minutes of browsing to develop. On top of this, though, is the "box culture" that Mitchell sees in American consumers. When we purchase something valuable, he says, we want it to be pristine, in a box carried out from the back storeroom, and we don't want to have to wait. On the other hand, we want to look at one just like it before making a decision, so we can be sure we're choosing correctly. While this works for, say, stereo components, it is problematic for high-end furniture. Many "wanderers," initially put off by the high price tag, lose all interest upon learning they must wait 12 weeks to receive their own piece, similar to the one on the floor.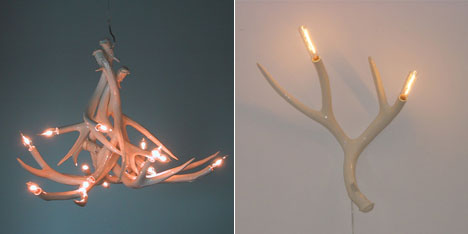 Sublime's developing strategy is to select a small number of successful pieces (Jason Miller's "Superordinate Antler Chandelier" is a candidate) and take control of the whole manufacturing process, so that a run of several dozen can be produced and stocked. This reduces the price point and wait time for furniture and lighting that showcases what's great about American design but might otherwise stay limited to a small niche. The plan is expected to become reality in the next year: the sort of initiative that could quietly bring more good design to more people than any exhibition or design competition ever did.

The Design Divide
The fact that so few programs like Sublime's have been tried in recent years, or that companies like Blu Dot and Vessel have so little competition, raises the interesting question of why furniture and product design have such polarized appeal in the US. The earlier examples of cars, stereos and jewelry are telling for their lack of such polarization. Each of these categories has entries at the extreme high and low end of the price and design-consciousness spectrum: Dodge Neons and $5 digital watches at one extreme, Bentleys and Rolexes at the other. But they also have a continuous range of entries in between, both in terms of cost and creative content. It's easier for a young working couple to aspire to a better car because there's a realistic next step to aspire to. One that works a little better, looks a little nicer, lasts a little longer and costs a little more.

On the other hand, housewares, furniture and many other products that benefit from better design rarely receive this sort of attention—either you are a "design person" or you aren't. It's more of a hobby than a natural progression, possibly because there's a lack of well-developed products occupying the middle ground. Where does that same couple look when they get tired of having the same Ikea furniture as all their friends, and tired of it breaking after two years? Blu Dot is trying to answer that question, but not too many others are. Even Design Within Reach is primarily aimed at allowing consumers to get the Eames lounge they've always wanted, assuming they already know it's a desirable thing.

Barbeau notes a certain parallel between this "design divide" and other political, religious, and social polarities in American society. Like the much-hyped Red State/Blue State split, the American division on whether good design is worth considering may reflect the options we're given rather than our innate beliefs or desires. The centrist candidate might agree with the opinions of more voters than the extremist competitor, but still lose because of an inability to rally fervent support. Similarly, well-designed products aimed at middle-class Americans who want something that works better can find themselves shouted down by cries of Low Low Prices on one side and Cutting Edge Design on the other. In a country where Cutting Edge Design alienates consumers with its connotations of great expense and low practicality, perhaps plain old Good Design is where we'll eventually find the answer.


---
Related Links:
Blu Dot
www.bludot.com
Vessel
www.vessel.com
Critz Campbell
www.b9furniture.com
www.knoxart.org/exhibitions/b9furniture
Sublime
www.sublimeamericandesign.com
Carl Alviani is a 30 year old former engineering student and high school science teacher. In addition to the occasional bit of journalism, he currently works as a freelance industrial designer, most recently building furniture out of industrial scrap for Barney's New York. He lives and works in a converted sporting goods factory in Brooklyn, New York, and dreams of a better tomorrow. His most recent contributions to Core77 were "American Design, Anyone?" and BlogSquad. He can be contacted at .