Last Man Standing:
80 years of Teague Design
By Michael DiTullo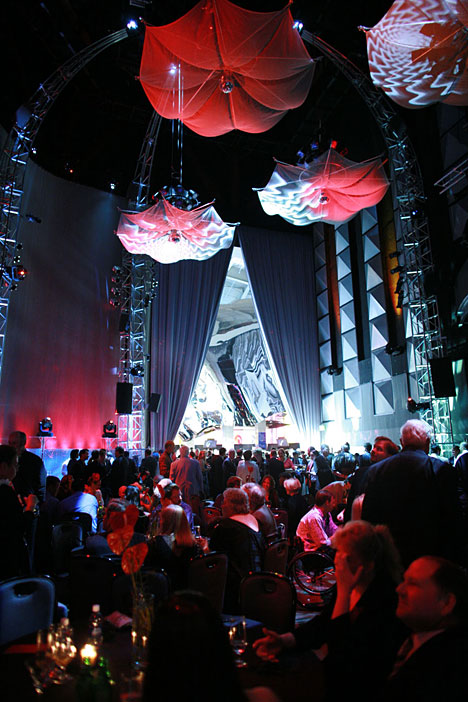 When you think of the names Raymond Lowey, Henry Dreyfus, Walter Dorwin Teague, and Norman Bel Geddes, you think of the founders of a profession; competitors and friends who kick-started our field and formed the organization that later became the IDSA. So why is it that only one of these men was able to establish a design firm that outlasted himself? The answer might lie within a pair of anniversaries.
This year Teague celebrates 80 years of having its doors open. It also celebrates its 60th consecutive year of having Boeing as a client. While his contemporaries busied themselves with securing their place in history, Teague was securing his place in the future. He felt that there was more to design than styling; that relationships were the key to making good design happen. He felt that sending designers to work on site with clients would help to ensure that their projects got pushed through various political and bureaucratic systems at large manufacturing corporations. And what began as a three-month assignment with one designer at Boeing evolved into a 60-year retainer with 80 Teague staff members working on site. Not a bad gig. And it's not surprising to find other decades-long client relationships—sometimes competitors of each other—in Teague's history.
While his contemporaries busied themselves with securing their place in history, Teague was securing his place in the future.
Over the years Teague designers have co-located with dozens of client—such as Kodak, Polaroid and Boeing—quietly assimilating into their client's infrastructure and infecting it with solid, good design. Teague's goal was to develop the relationship to the point where the client saw the team as their own, enabling them to be a part of bigger decision-making conversations that most consultants are not a privy to. (Of course, it's also hard to fire the team you feel is your own. Not a bad strategy.)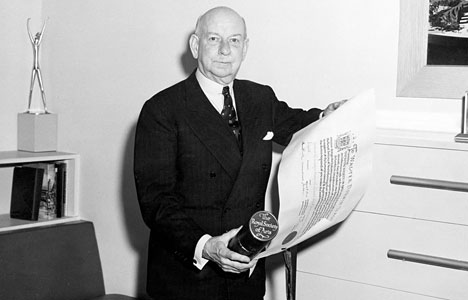 So what have these guys been doing for the past 20 years besides Boeings? That's what I asked John Barratt, the President and CEO of Teague. He proceeded to show me a portfolio of in-production products for Samsung, Panasonic, Microsoft, Nike, HP, Intel, Compaq, Palm...all extremely successful products that I had no idea Teague was a part of. What amazed me is how Teague, the firm, still upheld the modesty of Teague, the man. Talking with the designers and directors there, one really gets the sense they are in this to make great design for the clients and for the people who buy their products—a refreshing reminder in today's world of endless PR and cross promotions.
A bit of history
Teague breaks down the firm's history of success into distinct eras. The first era was the pioneering days of the big founders trailblazing the field of Industrial Design. The second era, the 30's through the 50's, established design as an integral part of business strategy. (A place where most of us still struggle, these guys were tackling this stuff 60 years ago with large identity design programs for clients like Texaco.) This period was followed by what is probably the most key phase of paving the way for the kinds of collaborative relationships that Teague saw outliving his tenure, and setting up the guidelines for how the firm would do business in the future as the industry changed around it. Ken Dowd, Teague's Senior VP of Aviation argues that "clients understand we are in it for the long haul. We want to build relationships that will last the test of time."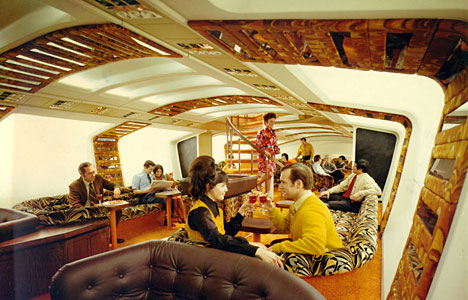 Their history gives them a unique set of benefits and challenges. As they shed the skin of your father's industrial design consultancy, they are starting to leverage the fact that they have been around for so long. As Barratt asserts, "When you've been around for 80 years, you tend to learn a few things. Trends come and go, processes change and adapt. But what hasn't changed is our focus on people. Those we work with, and in the end, those we hope to impact."
The current era is about challenge. They even have a name for it: "re-setting the bar." It's about coming out from under their invisibility cloak a little bit, showing what they have done, and reestablishing themselves in the global design world.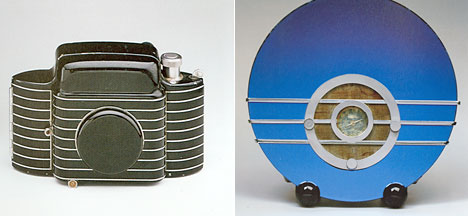 They wanted a look that said "lock yourself in a room with me, close the shades, and don't blink until your mom calls you down for dinner 3 times."
While many of us may not know it, the firm took on the extremely difficult task of reexamining itself about six years ago. The mission was to return Teague to the forefront of design, doing groundbreaking work for A-list clients while retaining their low-key, collaborative way. They hired John Barratt from Philips Design to help usher in that new era. "Our name was in the brand graveyard, everyone knew who we were but no one called," reflects Barratt. Step one was to identify a list of high end, brand-driven clients they wanted to work with, cold call them, and let them know Teague Design was still alive.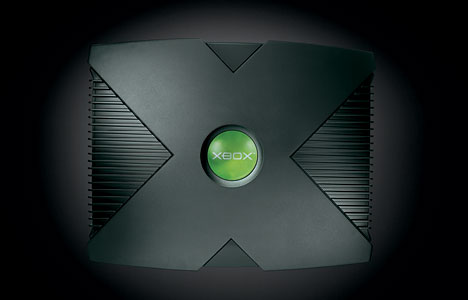 One of the first clients to hear the call was Microsoft. A short jump from Teague's main office in downtown Seattle, Microsoft gave Teague a brief to help them develop a new piece of electronics. This product would be sold in an over-saturated market segment that Microsoft had no reputation in, and one on which the two primary competitors had a virtual Full Nelson. Its name was the Xbox.
Teague responded to this daunting task by immediately involving top Microsoft decision makers in working sessions both at Microsoft and Teague locations. These workshops first established who the target consumer was: the hardcore gamer. Next, they collaboratively developed an iconic aesthetic. They wanted a look that said "lock yourself in a room with me, close the shades, and don't blink until your mom calls you down for dinner 3 times." Teague then set up sketch sessions with Microsoft designers, their own team, and outside consultants they brought into the fold. They wanted to ensure that they explored every imaginable variation of their language. Together, they found out what their consumer really wanted. By meeting with the client almost daily—both physically and virtually—Teague assured they were on board and looped in at every step. As Barratt puts it, "If you start a project 5 degrees off, you end up missing the target by 45 degrees."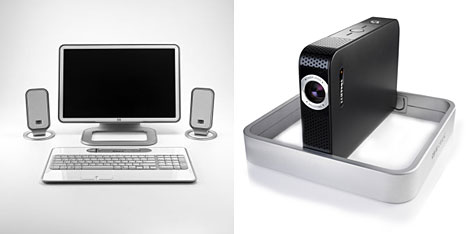 Through working on large projects like the Xbox, Teague was able to transform its image in the business world. They called people up and starting conversations. They were more interested in starting a relationship than getting quick cash, and actually turned potential clients down when they felt their cultures would not mix well. In this way, they ensure that their clients become their partners, resulting in a lot of repeat business; many of their clients come back for second and third projects, allowing Teague to build on their success as they create what Teague calls a great "mental proximity."
Back at the party
On the evening of their 80th anniversary, Teague quietly rented out the entire Frank Gehry-designed Experience Music Project in downtown Seattle, and filled it with over 600 of their closest friends—who also happen to primarily be paying clients. It became obvious why these people would fly in from around the world to celebrate the anniversary of a firm they support, have drinks together, and party: they genuinely considered the Teague designers as friends.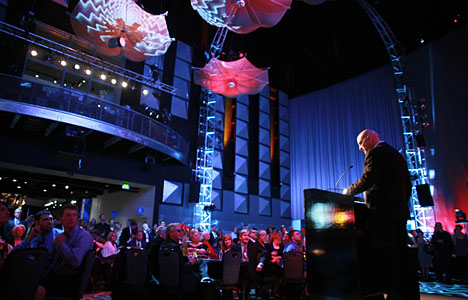 To commemorate the anniversary, the firm put together a book entitled "Design This Day: 8 Decades of Influential Design" with a nod to W.D. Teague's book of the same title, written in 1940. Of course, it's chock full of the mandatory product glory shots, great thumbnail sketches, printed with expensive inks on more paper types that you can count, and with the obligatory celebrity designer forward (this time its Ross Lovegrove). What is surprising and unique, however, are the 20+ pages in the book devoted to designers and designs that have inspired Teague—from the beginning of the industry (Achille Castiglioni, Dieter Rams, Mario Bellini) to today (Patricia Urquiola, Ronan and Erwan Bouroullec). Devoting this amount of ink to designers they admire in their own book is something I've never seen before, and speaks volumes about the type of people that run this company.
Teague's 28-year old Associate Creative Director, David Wykes, actually knew little of Teague before he joined the team in 2003. Their honest approach and down to earth team drew him to move to Seattle from London, where he was working and going to school. But he's buffed up on his W.D. history: "Walter Dorwin Teague was a design pioneer who produced truly beautiful and functional products. His collaborative spirit and innovative approach to design is something we still consider to be the core value of Teague. Looking back at his body of work, much of it is still very fresh and has an enduring, timeless quality."
And looking forward, here's to another 80 years.
A Teague Timeline:
1883 Walter Dorwin Teague is born in Decatur, Indiana.
1907 Graduates from Art Students League in New York in painting.
1908 Works as a freelance graphic designer and product illustrator. Clients begin to seek his input on the products he is illustrating.
1926 Founds Teague Design in New York City.
1928 Co-locates with Kodak in upstate New York, a collaboration that produces the Brownie and the Bantam Special, two of Kodak's most iconic products.
1931 Teague and son Walter Jr. design the Marmon 16, an early automotive classic.
1934 The Sparton "Bluebird" radio is designed, which is still sold today. Teague Design also wins contract to design passenger cars for New York Metro Transit Association trains.
1935 Teague proposes a revolutionary "corporate identity" program to Texaco. Designs the entire brand system and their first rollout of service stations.
1938 Teague Design signs the first highly lucrative design retainer contract with Polaroid, the relationship later develops the Land Camera, the first camera to "develop" its own film.
1939 Designs multiple exhibitions at New York World's Fair, including the Ford building. Also commissioned by Vogue to design the "dress of the future."
1944 Walter Dorwin Teague is appointed the first president of American Society of Industrial Designers, which later becomes the IDSA. In this year Teague also establishes an engineering division.
1946 Teague starts a 3-month commission with Boeing (3 hour tour?) which continues to this day.
1954 Famous UPS truck design.
1960 Walter Dorwin Teague passes away, at age 77.
1961 Teague establishes what would be a 21-year relationship with Proctor and Gamble.
1964 The firm designs the "House of the Future" for the '64 World's Fair.
1976 Working with Kenworth, Teague designs the first sleeper cabin cross country truck. The aerodynamically efficient design foreshadows a change in the industry.
1987 Designs crew quarters for NASA.
1997 Boeing 737.
2001 Xbox.
2004 Walter Dorwin Teague Jr. passes away, and John Barratt, from Phillips Design, signs on as President and CEO.
2005 Boeing 777.
2006 80th year anniversary in business, and 60th year anniversary of relationship with Boeing.
---
Michael DiTullo is a designer for Brand Jordan, a division of Nike. He also freelances actively and is a moderator of several core77 forums under the pseudonym "yo". Like any good core77 staffer, he likes an open bar.