Surging with substation-loads of literal as well as figurative electricity, the 2003 IDSA National Education Conference (NEC) just missed the great summer blackout that darkened the northeast and disrupted the IDSA National Conference. (Blame all those educators' fancy video-laced PowerPoint presentations for sucking up the last critical watts of juice in Manhattan.)
This year Pratt Institute's renowned Industrial Design Department hosted the NEC; the first two days was at their new Manhattan facility and the final day brought everyone into the bowels of Brooklyn to Pratt's main campus (with no little trepidation from a few of our Midwestern attendees).
Each year design educators from across the country, and increasingly from around the world, meet for an intense exchange of ideas involving recent research, teaching methodology, design theory, historical perspectives, the state of design, and innovative student projects. And consistent with the trend toward increasing interaction between industry and education, more design practicioners showed up this year, several even giving academic-ish presentations. If that wasn't enough to rock your designWeltanschauung, some graduate student presenters discussed their cutting-edge research, challenging the status quo with their intellectual irreverence.
So if you are tired of the same-ol' design conferences and have a craving for the bigger picture and a deeper understanding our role as arbiters between nature and culture, release that stylus from your permanently cramped hand and get your butt out of that wish-the-boss-did-not-have-to-sell-the-Aerons-on-E-Bay-and-instead-got -this-scoliosis-inducing-replacement-from-Target chair and get to the NEC next year. It's more than just pretty pictures.
Check out the IDSA's new website (under "Education" for 2004 conference announcement and to view written versions of the2003 papers).
Here's a sampling of the 2003 intellectual smorgasbord: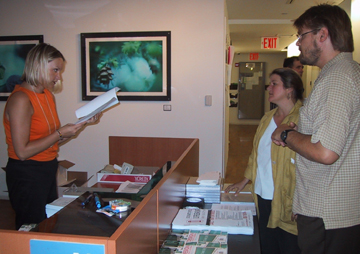 The engine that keeps the conference going, Heather Behnke, discusses last minute details with Debra Johnson, department chair of the Pratt's Industrial Design department. (Pratt's Prof. Scott Lundberg is also part of the action.)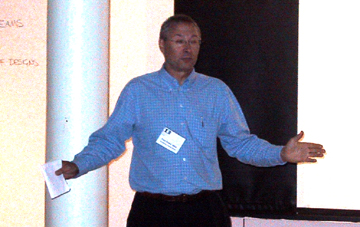 IDSA Vice President for the National Education Council, Paul Down, is the P' Diddy of design education (sans faux-gansta' disposition, clothing line, and concealed weapons).
Bruce Hannah of Pratt Institute reflected upon the state of design and what he calls the trend toward 'Karaoke design'—marked by a lack of originality and penchant for mimicry. He was able to draw upon the desire to teach students to dream—"about the future, not the past"—with his participation in developing a new Industrial Design program for an Idaho university. His concern for designing a program from scratch centered on the "act of designing" rather than a focus on form and the artifact itself.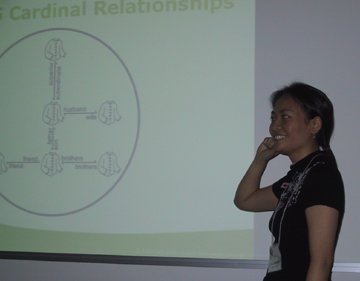 Ever wonder what it is like to do ethnographic research in another culture, especially one as different (from the US) as China? Elaine Ann, born and raised in Hong Kong, has worked for 12 years in the US doing research for design consultancies and corporations and now has her own research firm that specializes in assisting western companies interested in researching eastern users. While presenting different models that affect the structure and methodology of research in China, she debunks some common assumptions: local translation is best, data base informant recruiting is best (or possible), and talking to people is the same all over the world—you can interview with the same techniques as in the US.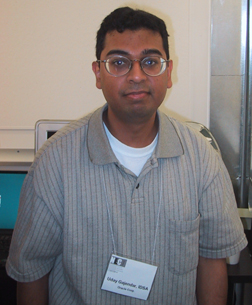 Another practicioner-presenter, Uday Gajendar draws upon his experience with Oracle's usability and interface design group with his paper, "Taking Care of Business: A Model for Raising Business Consciousness among Design Students." Gajendar creates a framework for students to understand the practical aspects of affecting positive user experiences. This is based upon four distinct areas where design and business cross paths: culture, leadership, strategy, and innovation.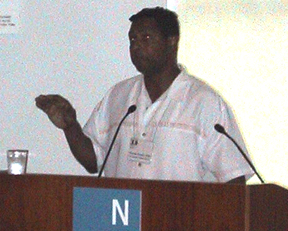 Ricardo Gomez discusses, "Teaching Universal Design." Having been involved with universal design before it was cool and before it was even known as "universal design," Gomez draws upon his past and current work on the subject at San Jose State. From what he calls "equity filters" he proposes a framework of Discovery (understanding), Interviewing (observing), Product Analysis (interpreting), Exploration (visualizing/realizing), User Testing (evaluating/refining), and Tangible Solution (implementing).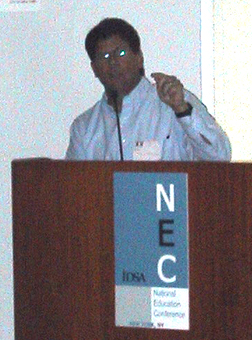 Drawing upon his kick-ass sketching and rendering prowess, Kevin Reeder gave an engaging talk about the use of anthropometrics and figure drawing. His main point is that incorporating the human figure and scale early in the design process saves time down the road. With numerous examples of from his own and his students' work, he provides a convincing argument for the power the pencil and the incorporation of ergonomic issues at the front end.

Ed Dorsa hit on the hot topic of "Digital Technology & Industrial Design Education." Voicing his belief that industrial design education today cannot be the same as it was even a decade ago because of digital technology, he argues against the "waste of time" involved with traditional model making and rendering. While not adverse to these skills outright, given today's educational environment of "10 pounds of sand and a 5-pound bag" we should not give concern to the ability to create appearance models and renderings when similarly effective information can be conveyed more efficiently with digital technology. He doesn't care if his students use stereo lothography for their assignments and even tells them to "stop acting like an artist." Oooo, dems is fightin' words.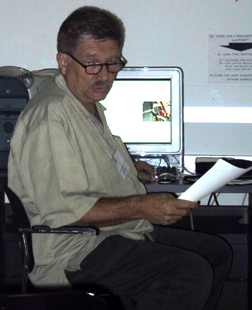 Donald Herring of Arizona State gave a fascinating talk about "Design Research Findings Related to Wheelchair Securement On Large Transit Buses" that stemmed from a student-based research project that was funded by the National Institute of Health-Small Business Innovation Research grant. Basically they were looking at how to better allow wheelchair users to secure their wheelchairs on city buses. Sound like a simple engineering problem? Far from it—you can't even begin to think of the object-oriented solution until the human and institutional questions have been tackled. Their research revealed the seemingly insurmountable issues surrounding the attitudes and sensitivities of different wheelchair users, the bus other passengers, the bus drivers who are integral in the fastening process, city ordnances, discriminatory and accident litigation, liability insurance, and the Americans with Disabilities Act legislation. Herring suggests that other designers look into Small Business Innovation Research grants to fund real world projects, as they got some fat cash for just the initial phase of the project. (He is just sitting down and is not a wheelchair user himself…not that there is anything wrong with that.)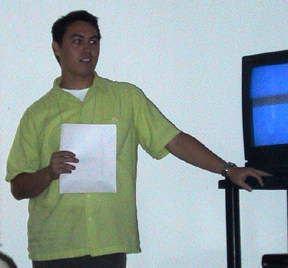 One-time students at Syracuse University, Chris Hosmer and Heather Reavey now are part of Design Continuum's design strategy group. Their talk dealt with the Synergy Laboratory class at their Alma Matter that they developed and which is now entering its fourth year. Business, Architecture, and Industrial Design students join forces on projects affecting the school and community. Some of the lessons learned: 1) synergy is hard and communication is clumsy, 2) telling the story is paramount, 3) client accountability is important, 4) a good subject is key, 5) politics stink, 6) the user is not the consumer, and 7) enthusiasm is everything.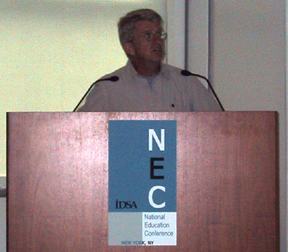 Ron Kenmitzer, 2003-04 visiting professor at Carnegie Mellon, gave another insightful and engaging presentation this year: "Are You Talking to Me?" He was also the only presenter to successfully incorporate the word "fuck" into a PowerPoint slide. He discussed the role of the user and his framework for incorporating their concerns in the product development process. The user is placed at the center of: Task Analysis, Human Factors, Cultural Influences, Scenarios, User Behavior, Intuition/Experience, Testing, and User Profile.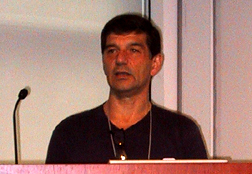 John Paul Kusz of Illinois Institute of Technology's Stuart Graduate School of Business presented, "Balancing Sustainability in Product/Business Models." Intelligent, well-educated, and with humanistic motivations, Kusz introduced a framework for re-envisioning and re-interpreting our material world from the business perspective. Moving from Waste Management (costing money), to Resource Management (saving money), to Asset Management (making money) he proposes a fundamental shift valid for bean counters and designers alike. He offered examples from a Chicago urban tree planting program and such movements from material to service-based offerings like the answering machine to voicemail and printed encyclopedias to MS Encarta.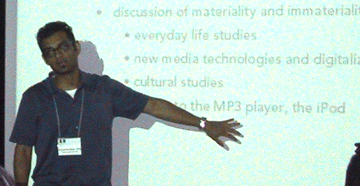 Arizona State's Prasad Boradkar gave what I thought was the best paper of the conference, "Material Things, Immaterial Music." Engaging, robust, and cool, his presentation incorporated theoretical issues from design and material culture studies in examining the production and consumption of digital music and the MP3 player. Specifically his study "seeks to expand the social meaning of the object, challenge the existing notions of the materiality of technology, examine the impact of genre-cultures on people and products, and offer multi-disciplinary approaches for doing so."

Kara Johnson of IDEO and Jimmy Dickerson of Eastman Chemical presented the process and results of their recent collaboration on an exploration of eyewear. Touted as "The advance of design through materials," the conservative (nerdy?) chemical engineers at Eastman joined forces with some of the most creative designers at IDEO to develop an amazing vision for the future of eyewear. Be it with copolyesters or cellulose their designs pushed the limitations of materials, processes, and the idea of what plastic on our faces can be.
An anchor within the design education community, Craig Vogel reminded us of the powerful example that Charles and Ray Eames provide not only as deft practicioners but also as adroit educators. Vogel himself was able to educate a room full of educators, most of whom would claim to know a great deal about the Eameses. By focusing on the lesser known films, rather than their product design, we were left again invigorated by the shining 20th Century example of effectiveness that what we might hope to accomplish in the new millennium. Check out their films at http://eamesoffice.com. Also check out Vogel's well-received new book, Creating Breakthrough Products.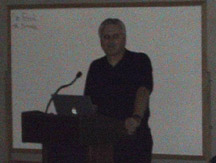 Bruce Claxton, current President of the IDSA talked about our design community and calls for increased involvement and outreach between students, educators, and practicioners despite the positive advances of recent years.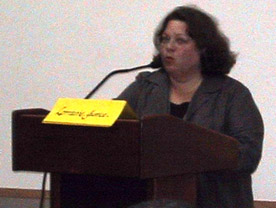 Lorraine Justice, PhD of Georgia Tech talked straight about the sometimes perilous journey toward academic tenure and how to avoid the pitfalls. Relationships, relationships, relationships.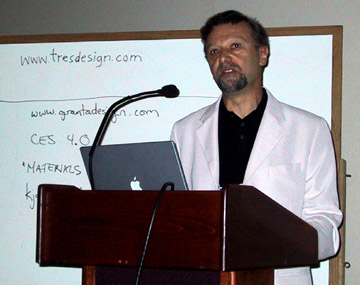 Stephen Meamed presentdc "Launching an Interdisciplinary Product Development Course at the University of Illinois at Chicago." Like the title says, he spearheaded a two-semester research and design class which was funded by Whirlpool involving Industrial Design, Mechanical Engineering, and Marketing/Management students. Given the vague marching orders of designing for "Wellness in the home," he describes the hurdles involved at both institutional and team levels in trying to bring "the latest products to market."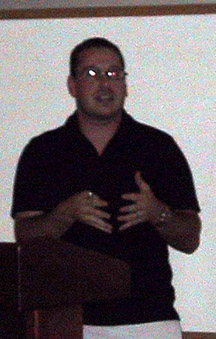 While David Rihgholz disagrees with Ricardo Gomez (above) about the origins of the Universal design movement (it's like the east coast vs. west coast rap music quarrel less the drive-by shootings), they both agree on the importance of its place within Industrial Design curricula. In "Systems Approach to Universal Design Education," Ringholz's perspective envisions the universal design interaction system as the "combination of the user, the procuct, the task and the environment in which it all takes place." While this at the surface seems obvious, his framework for how to interrogate these areas is helpful and is capable of offering inciting "audiences outside of the product design discipline; architecture, environmental design, engineering, and facility management to name only a few."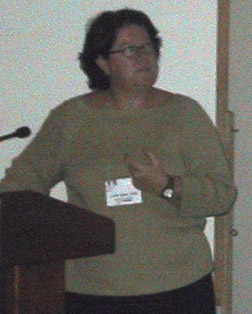 Leslie Speer of California College of Arts and Crafts carried the Eco-Design torch as she discusses her work in teaching eco-awareness classes and incorporating its principles in other, more general industrial design courses. She shared experiences over the last five years with her courses that began as three-day charrettes and matured into regular studio-based projects. A staple of her "From Trash to Cash" courses involves using abundant and ubiquitously discarded items (eg, plastic grocery bags, junk mail, and aluminum cans) as raw materials for other and potentially mass producible products.

This year's interactive panel dealt with audience-raised issues including the state of design education, entrepreneurialism, the digital classroom, and the value of design in the market economy as well as its role in improving the human condition.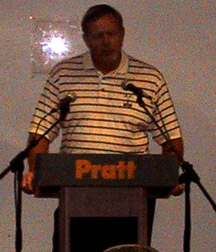 The NEC closing dinner was sponsored by the Eastman Chemical Company (Pro-Tech Powder Coating and Rhino were also conference sponsors—thanks!). Here one of their bigwigs thanks the IDSA for the collaboration and talks about the wacky plastic samples that were left on the dinner tables.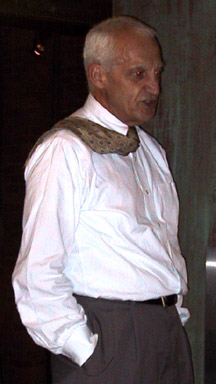 Pratt's president, Thomas Schutte, addresses the dinner crowd with the casual tie-over-the-shoulder-so-it-won't-get-in-my-roasted-rosemary-chicken look.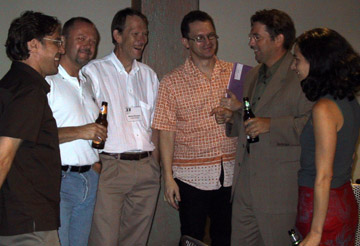 Canadian, Australian, and American educators unite in a coalition of alcoholic consumption.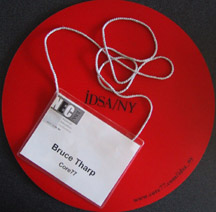 If you have any great ideas on how to reuse these old conference name badges, please tell me and ReadyMade magazine. I have piles of these things.

If you have questions, comments, and/or complaints about the above article please email me < brutha-at-core77.com >