>
The SolarShuttle:
Rain or shine, this boat powers on.
By Jennie Winhall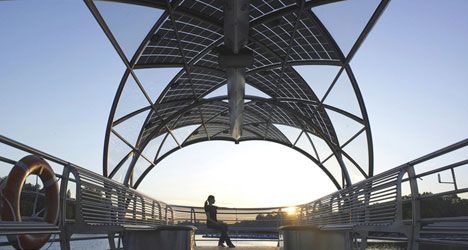 Hyde park, 10am. Only a few joggers and tourists are out and about. It's a typical grey London day, but standing on the wooden deck of the brand new SolarShuttle feels slightly indulgent. "What a shame it's not sunny," says one of the passengers, as everyone sighs at the vagaries of the English climate. Surprisingly, the less-than-perfect conditions make this project even more believable: the SolarShuttle, the UK's first solar powered boat, doesn't stop dead when the sun decides to hide.
The ethics and the big idea behind it...it's a real privilege for an industrial designer to work on something like this. You have to do so much rubbish in your career before you get a chance like this to address the big question facing all of us—which is "What is the future of energy?"
When the boat is not in use, the SolarShuttle acts as a floating power generator, feeding surplus electricity back into the national grid. Solar energy is its one and only source of power, storing energy in batteries and working in conjunction with two silent electric motors without any help from fossil fuels or the wind. The SolarShuttle's elegant canopy of photovoltaics generates 9 to 12 amps per hour on an overcast day like today. She can store up to 80 miles worth of energy when there is no sun and run for 20 miles in complete darkness. This emissions-free wonder carries 37 passengers and cruises silently at 5 miles an hour, saving 4900 lbs of carbon compared to a traditional diesel-powered boat.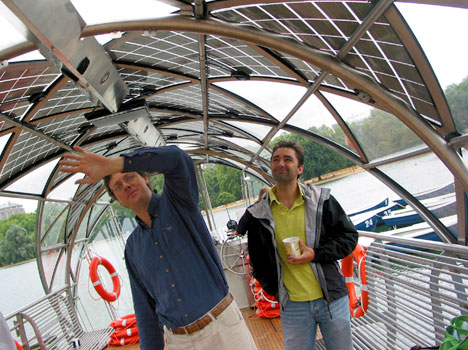 "It's the perfect project," says Jason Iftakhar, designer for Solarlab, a London-based design consultancy for solar innovation. "It makes me proud every time we take her out." Iftakhar graduated from the RCA's Design Products course two years ago. "I spent a year modelling this on Solidworks and now I can't believe I'm actually standing in it. The ethics and the big idea behind it...it's a real privilege for an industrial designer to work on something like this. You have to do so much rubbish in your career before you get a chance like this to address the big question facing all of us—which is 'What is the future of energy?' It's just great to know that you're able to create an actual solution and put it in front of so many people."
The future of energy
So is this the future of energy? Solarlab thinks so. The 5-strong company believes that design can both seduce and convince people that a green future will be more, not less, exciting. The Serpentine SolarShuttle is one of 40 solar-powered boats around the world designed by Behling and manufactured in Germany by Kopf. The collection ranges from a 4-person leisure boat to the Hamburg passenger ferry, the world's largest solar boat, which carries 120 people across the city's harbour. These types of marine travel are ideal candidates for solar power, where high speeds are not necessary, and steady, efficient cruising is key. Below deck, the SolarShuttle carries several racks of marine-grade batteries with 10-year life spans. The heavier weight of these batteries is one of the factors limiting the use of solar power for cars, although Solarlab continues to develop concepts for solar powered trains, rickshaws and buses powered by a network of solar canopy bus shelters.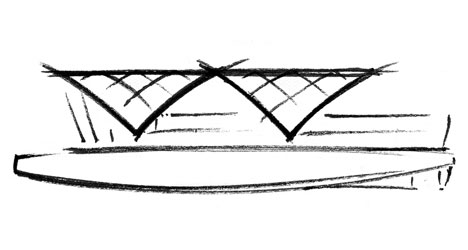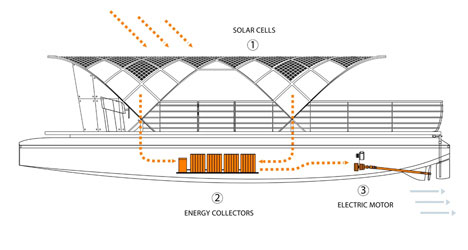 Solar canopies are a dominant feature in Solarlab designs. Covering as large a surface area as possible is the goal, where solar cells are arranged in clusters. The SolarShuttle has 27 curved glass modules that create an output of more than 2kW. Solarlab has developed a unique cell lamination process that layers photovoltaic cells between Plexiglas and a clear membrane. This process actually embeds the cells into the Plexiglas tiles, which are later hand-formed and sealed into place onto the stainless steel structure. Careful detailing on the decking and benches make the SolarShuttle look and feel more like a luxury yacht, rather than a passenger ferry. Detachable glass panels block out the wind and rain during winter while also working with the steel framework to make the SolarShuttle feel like floating architecture: modern, upright and dignified.
This type of marine travel is anideal candidate for solar power, where high speeds are not necessary, and steady, efficient cruising is key.
How it started
Five years ago, Christoph Behling, founder of Solarlab, sent a letter to the Royal Parks agency suggesting they invest in a solar-powered boat. Behling, running his own design studio with clients like Tag Heuer and Nokia, had already developed several solar boats with Kopf for waterways in Germany and Switzerland. Hyde Park, however, was a completely different kettle of fish. First maintained as private hunting grounds for Henry VIII, it was opened to the public by Charles I in 1637, and is now strictly maintained by the Royal Parks agency.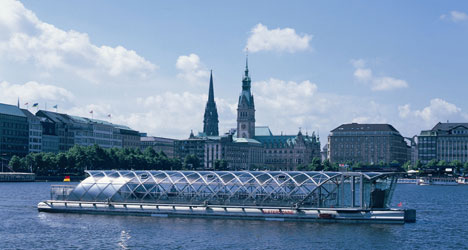 It took the persistence of Peter Scott—whose company, BlueBird Boats, runs the public boating service—to persuade the Royal Parks Agency to take the bold, visionary step to bring solar power to the Serpentine. "For the passengers the experience is quite different to public transport," says Peter Scott, who runs the shuttle. "It's like a party—everyone talks, they ask all sorts of questions, they want to know whether she really runs on the sun." Scott received a hand-written note from the parks dept asking him to look into the possibility. "I don't think they thought I'd do anything about it," he says. "But I was fascinated." Scott and his partner Dave Dakin formed BlueBird Ecological in order to commission a new ship. The cost of a solar-powered boat is typically 15% higher than a conventional boat, however the difference can be recouped in three years thanks to fuel savings.
Apart from the basic business model, Hyde Park itself needed to be considered. "We had to carry out an incredibly detailed feasibility study," says Scott. They looked into the impact on wildlife, the view shafts, and tastefully harmonizing with the classical structures surrounding the 275 year-old Serpentine Lake. "In the end it's always a battle between furthering the enjoyment of people using the park and conserving the park for future generations. The SolarShuttle works because it's quiet, causes no pollution and because it's fun."
Everything under the sun
A booming worldwide interest and exploration in design for sustainable power applications—such as solar-powered transport—shows great promise for a greener future. In the UK alone, a growing number of unique companies working with green energy continue to develop, innovate, and invent new sustainable applications. Solar Century, the leading provider of photovoltaic solutions in the UK, supplies, designs and installs solar panels on countless domestic, public and commercial buildings. Other efforts take a product application-oriented focus such as Better Energy Systems who design and manufacture the Solio, a portable solar-powered charger for a range of personal electronics including phones, laptops, and MP3 players.
Solarlab itself continues to develop and test a collection of projects, including a Solar Cab concept to be launched in 2008 and a 250-passenger river shuttle for the Thames that would eliminate the production of 18,040 lbs of CO2 every year. Scott and Iftakhar see the SolarShuttle as a powerful demonstration of the potential of renewable energy, set to influence future generations. "Millions of people pass through Hyde Park every year, and this experience will be embedded in their brains. Especially the kids. And they are the ones that will go on to make the big decisions about the world. It means that solar power won't be an alien thing to them. It will really push this kind of innovation forward."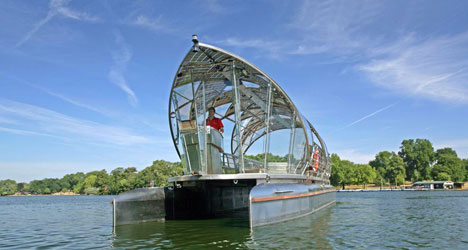 ---
Jennie Winhall is Senior Design Strategist for RED. RED is a 'do tank' within the UK Design Council that develops innovative thinking and practice on social and economic problems through design.