There's a catalog that's been sitting on my bookshelf for the past few months from Topdeq, the German-based office furniture seller. I'm not sure why I have it—it was passed on to me by a friend perhaps, or I got onto their mailing list through some opaque series of marketing connections—but even though I don't need office furniture, I've looked at the cover enough times to memorize the words emblazoned across it: "European Design for the American Office."





As I often do after seeing advertising copy, I began playing a little game with it, substituting and transposing words to see what it might say in a parallel universe. What I ended up with was "American Design for the European Office," which sounded rather ludicrous, to me and most of my design-inclined friends. None of us could recall, or even imagine, a catalog with that tagline.

This raises an interesting question. Certainly, there are American companies that sell their own designs to the European market. But despite a robust and often brilliant design history, and the most dynamic production culture of the 20th century, the concept of "American Design" has never much caught on as a selling point, either in the US or abroad.

"Americans have always placed a cachet on European design that European companies have it in their interest to encourage even further," says Aric Chen, a design writer for Surface, ID, and Interior Design magazines, and co-curator of the American section of the International Design Biennale which ended last month in France. His evaluation of the European view of current American design, on the other hand, is "either corporate and dull or a little rough around the edges." Other New York area designers, curators and showroom owners I've spoken with recently had similar responses, either in describing their own perceptions, or the perceptions they see in the design-conscious market on both sides of the Atlantic.
An example that might help explain this attitude could be found last May, during the ICFF. Among the dozens of offsite events that accompanied the fair were openings and displays throughout Manhattan by French, Italian, German, English, Dutch and Spanish designers. But with the exception of some competition winners on display at the Chelsea Hotel, and some mid-century pieces showcased at Vitra, one could be excused for thinking that Americans simply don't do new design anymore.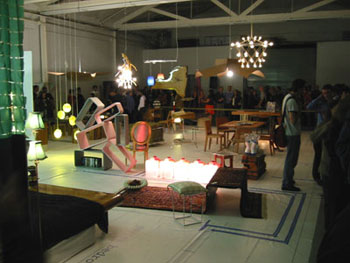 That same week, however, many of the cleverest, most innovative pieces to be found in the entire city were on display at a handful of spaces in Brooklyn, produced by American designers, and mostly viewed by their friends, colleagues, and a small number of local design enthusiasts.

Stephen Mitchell counts himself among these enthusiasts. He also collaborated with Chen in collecting the work now being sold through Sublime, a store in Manhattan's Tribeca neighborhood specializing in American design. Oddly, Sublime did not set out to become a purveyor of exclusively domestic work. As Mitchell tells it, a long roster of international designers had been selected after several months of research and travel, only to be spoiled shortly before they were set to open by an eye-opening stroll through the 2003 ICFF. "Even New York doesn't embrace New York designers," remarked Mitchell, "We realized there was so much excellent, unknown work being produced here in the US...it made more sense to focus domestically."

One trend that has been pointed out by Chen, Mitchell, and others in the business is the common thread running through new work emerging from America, the Netherlands and the UK. David Alhadeff at The Future Perfect in Brooklyn goes so far as to call it a "global collective unconscious," with growing aspects of irony, nostalgia, and creative use of materials, regardless of whether it sprang from a studio in Chicago, Glasgow or Amsterdam. He's often seen the work of American designers in his showroom mistaken by customers for British or Dutch.

While these ideas are steadily finding their way into the mainstream in Europe, through mid-sized manufacturers that supply a broad retail market, most of the emerging design on the American side stays small. This may not be an entirely bad thing.

That's because many designers are seizing on newly developed possibilities to do it themselves on a small scale—what American furniture designer Jason Miller calls "the eBay model"—straddling the line between art and design. "If I make a product, now I only have to find one buyer," he says, "so I don't have to dumb it down for a mass audience." Miller's work ranges from one-off pieces sold to collectors or developed for shows, to pieces manufactured on a limited scale and sold through a few small showrooms, or his own website. While derided by some large-scale designers as "making crappy art furniture," this is increasingly a viable way of making a living. Cities like Oakland, Brooklyn, L.A. and Chicago encourage this model, with populations interested in new design, and a culture of making things that enables it to be realized.
The work born of this method is among the most original in the world presently. The financial and logistical limitations that are placed on many small scale designers have actually spawned a flood of creativity, often using traditionally low-value materials: haunting lamps made of hollowed-out 2x4s, playfully minimalist raw plywood seating, glowing sofas of polypropylene sheet and off-the-rack aluminum extrusions, stunning furniture built from laminated strips of scrap wood. In directing their efforts toward creative re-use and repurposing, many of these designers are also actively ushering in a new style of environmentally conscious design which is both hip and green.

The backside of this possibility, though, is the continued rough-hewn reputation that American design carries. Mitchell points out that many great domestic furniture and product designs never truly have a chance to make it beyond the prototype level, limiting their appeal as "too raw to actually live with." Should a designer want to see his work produced by a larger-scale manufacturer, his options are much more limited. "If I want ceramics made, I have to go to Europe, or to Suzy the ceramicist in Vermont making teapots for her hippie friends," says Miller. "I mean, there are ceramics companies in the US, but they're like…Lenox. They're not going to do my stuff." A dilemma ensues: stay small and rough, or try and find a manufacturer to work for and let your own concepts go. Critz Campbell, the Mississippi- and Chicago-based designer whose work was featured at the Cooper-Hewitt's Design Triennial last year, manages to straddle both realms. While his striking illuminated seating now garners critical and media attention, a significant part of his earlier working income came from licensing less provocative designs to Crate and Barrel and CSL Limited.

One way European countries help emerging designers around this dilemma is through financial and logistical support. Watch any American design student check out the student work coming from Eindhoven, Umea, or London's Royal College of Art, and their reaction is often one of astonishment—not necessarily at the level of creativity, but at students being able to afford to fabricate projects with such a high level of finish, and show them internationally.

The reason is simple: numerous government programs have been established specifically to help emerging European designers get their projects built and shown, while no such equivalent exists in the US.

Consider the British: back at the ICFF, long rows of talented British designers show their wares each year bearing identical stencils on their booths reading "Contemporary British Design," accompanied by the insignia of the British European Design Group, who pay much of their transport and exhibition costs. Some of the work in those booths was developed with government funding to offset manufacturing expenses. The Citizen-Citizen gallery in Brooklyn is set to open a San Francisco showroom next year, bringing emerging British design more exposure in the US; both are largely funded through the largess of UK Trade and Investment. Go to the Hidden Art website, a well-organized listing of London-based designers and design news, and scroll to the bottom: the logos of (mostly government-funded) sponsors span most of the column. Similar fabrication, exhibition and media funding is available in other countries.

As a result, student shows in Europe and design fairs across the globe are jammed with innovative, well-finished work from emerging European designers, and are similarly jammed with well-informed scouts from manufacturers and consultancies eager to pick up the most promising and add them to their rosters. Of course, it helps that many of these manufacturers are of the mid-sized sort that have the flexibility and desire to bring fresh ideas to market.

They are also, ironically, the manufacturers that many now famous American designers used to get their early work into production. After all, if it weren't for Alessi, it's unlikely Michael Graves would be doing teapots for Target these days.

In the end, the biggest loser in this game may be the American manufacturer. With the ever-inflating hype about design being the ultimate differentiator of brand identity, furniture and product manufacturers in the US are repeatedly shooting themselves in the foot by not seeking out domestic talent and taking the risk of bringing them to market. By the time our hopeful designer has gotten frustrated and headed abroad, or decided custom work is her only other option, it's too late. Urban America will keep building its rough-edged masterpieces, and executives across the nation will still be flipping through catalogs of Cutting Edge European Design, and perhaps wondering why no one does that here.
---
Carl Alviani is a 30 year old former engineering student and high school science teacher. In addition to the occasional bit of journalism, he currently works as a freelance industrial designer, most recently building furniture out of industrial scrap for Barney's New York. He lives and works in a converted sporting goods factory in Brooklyn, New York, and dreams of a better tomorrow.