Love Objects
A review of MoMA's "Design and the Elastic Mind" by Alex Terzich


Book Review: The Back of the Napkin, by, Dan Roam
Review by Robert Blinn


New York Toy Fair 2008 photo gallery
64 Photos from this year's toy fair (Jan 7-20), covering everything from collectable vinyl toy to robots to DIY plush toys and alternatives for your next skateboard


Beyond Fashion: Reviving Experimental Design
"...Where student dreamers used to push the market with experimental thinking, now the market moves faster than student imaginations." By Scott Klinker


Stockhom Design Week 2008 photo gallery
This year's event is about recognizing young designers and their first steps in setting new standards for the future of Scandinavian design


Core77 Broadcasts: MoMA's Design and the Elastic Mind - Live!
Alex Terzich attends the press preview and opening, where he interviews Chuck Hoberman and Peter Hall, and sits with Paola Antonelli for a longer interview the following day
February 2008


Greener Gadgets Competition 2008
Check out all the winners and notables, or watch video of the live judging


North American Handmade Bicycle Show 2008 photo gallery
Even if you've forgotten how to ride a bike you'll want to peruse this collection of photos for inspiration


Core77 Broadcasts: Hector Serrano from London
Much of the work coming out of Hector's studio demonstrates a playful curiosity about our emotional relationships with the objects we encounter and possess


Good For Nothing?
Why Nonprofits, Designers, and Techies Can't Talk to Each Other, by Ayca Akin


Interaction Design and ID
You're already doing it...don't you want to know what it's all about? By David Malouf
January 2008


Detroit Auto Show 2008
Mike Doyles pics from this year's car show


Consumer Electronics Show 2007
Check out all the hot and cool gear


Sustainable Answers:
Taking no prisoners with Tom Seager, by Xanthe Matychak


Out of the Frying Pan, into the Fire:
Life lessons from consulting to academia, and back again, by Jon Kolko


Core77 Broadcasts: Offsite Discussion Sampler
Video sampler from Core77's Offsite event in NYC


Core77 Broadcasts: Ze Frank
Video from Core77's Offsite event in NYC


Core77 Broadcasts: Tobias Wong
Video from Core77's Offsite event in NYC


Core77 Broadcasts: Paul Budnitz
Video from Core77's Offsite event in NYC

Core77 Broadcasts: Steven Heller
Video from Core77's Offsite event in NYC


Core77 Broadcasts: Kelly Dobson
Video from Core77's Offsite event in NYC
December 2007


The Ultimate Holiday Gift Guide
from Core77


Material Vision 2007
Gallery of this years show


Core77 Broadcasts: Dunne + Raby
Interviewed by Bruce Tharp


Core77 Broadcasts: Donald Norman
On positively every worthy issue in design, by Bruce Tharp
November 2007


Instituting Innovation:
Tell-all advice from 4 leading practitioners, by Brianna Sylver


Book Review: How to Think Like a Great Graphic Designer, by Debbie Millman
Review by Robert Blinn


Asking the Beautiful Question:
Design and engineering, by Ian Curry


Book Review: Designing Design, by Kenya Hara
Review by Robert Blinn


Dutch Design Week 2007
Arnold van Bezooyen's gallery from the flatlands of design


Book Review: Self-Sufficient Housing, by the Institute for Advanced Architecture of Catalonia
Review by Robert Blinn


Materialica 2007
Full galleries from this year's show
October 2007

London Design Festival 2007
All the highlights, all the galleries, and all the show from this year's London Festival


Istanbul Design Week 2007
Arnold van Bezooyen visits Istanbul Design Week and shares the standouts


Book Review: Everyday Engineering, by Andrew Burroughs + IDEO
Review by Robert Blinn


Helsinki Design Week 2007
From Habitare to Design District Helsinki, check out our full galleries of this year's celebration

Core77 Broadcasts: Matt Clark from United Visual Artists
Interviewed by Andy Polaine
September 2007


Hack 2 School
In honor of the start of the school year, Core77 has put together the definitive set of tips, tricks, and lifehacks for design students


Book Review: Logos 01: an essential primer for today's competitive market, edited by Capsule
Review by Robert Blinn


Design Research
Practice Noticing Stuff and Telling Stories, by Steve Portigal

Book Review: The Function of Ornament, Edited by Farshid Moussavi and Michael Kubo
Review by Robert Blinn


Dorm Drop-Off
Making a Nightmare into a Dream, by Steven Heller


Design Writing in Three Flavors
by Alice Twemlow


Book Review: The Myths of Innovation, by Scott Berkun
Review by Robert Blinn


The Life of the Party: Working Your Net
by Alissa Walker


Book Review: Naoto Fukasawa, by Naoto Fukasawa, Antony Gormley, and Jasper Morrison
Review by Robert Blinn


How to Work the Design Blogosphere
Design Blog Editors Teach You How to Get Your Shit Published Online


Why You Should Write in Your Books
Or, Talking Back to Aristotle and Loewy, by Ralph Caplan


Spinning Form
How to Tell Stories with Product Design, by Scott Klinker


How To Lead a Sustainable Life as a Design Student
By Jill Fehrenbacher


Why You Shouldn't Hang Out With Designers
By Sam Montague
August 2007

The Future of "User-Designed"
How one company worked with end-users to design their perfect product. By Bryan Hynecek

Book Review: Higher Creativity for Virtual Teams: Developing Platforms for Co-Creation, by Steven P. MacGregor and Teresa Torres-Coronas
Review by Robert Blinn


"I Design Products... Like the Kind You Pick Up With Your Hands"
What software designers can teach us, and vice versa, by Carl Alviani


Ecodesign, Ecolabels and the Environment
How Europe is redesigning our footprint on earth, by Niti Bhan


Book Review: Emerging Technologies and Housing Prototypes, by Salvador Perez Arroyo, Rossana Atena and Igor Kebel
Review by Robert Blinn

Core77 Broadcasts: Rob Walker
Interviewed by Allisa Walker (no relation)


Core77 Broadcasts: Edward Burtynsky + Jennifer Baichwal, Manufactured Landscapes
Interviewed by Allan Chochinov


Book Review: The Internet Imaginaire, by Patrice Flichy
Review by Robert Blinn


Core77 Broadcasts: Paul Budnitz from Kidrobot
Interviewed by Steven Heller
July 2007


Riding the Flux
Design is changing in a myriad of ways. Are you? By Kevin McCullagh


Book Review: Seventy-nine Short Essays on Design, by Michael Bierut
Review by Robert Blinn


Device Art
Is one of the hotest trends in design coming to America? By Carla Diana


Book Review: The Tourists, by Jeff Hobbs
Review by Robert Blinn


Design Strategy Conference
Nico Macdonald reviews this year's ID conference in Chicago


Book Review: Hot-Wiring Your Creative Process, by Curt Cloninger
Review by Robert Blinn


Design and Poetry
What can designers learn from poetry? By Xanthe Matychak


Core77 Broadcasts: Masa Inakage
Interviewed by David Womack


Core77 Broadcasts: Luke Williams from frog on Dubai
Interviewed by Linda Tischler


Core77 Broadcasts: Brad Holland on Intellectual Property
Interviewed by Steve Heller


Core77 Broadcasts: Nik Roope from Hulger
Interviewed by Andy Polaine
June 2007

New York Design Week
Core77's exhaustive coverage of galleries, events and parties. Also check out our


Experience IS the Product
Peter Merholz on the difference between product design and good product design


Design Mai 2007
Arnold Van Bezooyan reports from this year's Berlin fair


Gravity Free 2007 Review
This year's conference was held at the W Hotel in Chicago, by Bruce Tharp reports.
May 2007


Milan Furniture Fair 2007
Core77's comprehensive coverage of this year's exhibitions


Design for the other 90%
A review of the Cooper-Hewitt exhibition, by Natalia Allen


Material Trends 2007
Images from the Hanover Fair, by Arnold Van Bezooyan


Design Philadelphia
Photos from this year's exhibition, by Andrew Dahlgren, Roger Allen, and Shan Ju Lin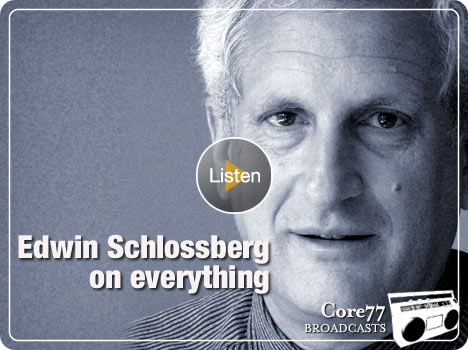 Core77 Broadcasts: Edwin Schlossberg from ESI
Interviewed by Steve Heller


Core77 Broadcasts: Gary Hustwit in Helvetica
Interviewed by Alissa Walker
April 2007


A Manifesto for Sustainability in Design
1000 Words from Allan Chochinov


Interview: Paola Zini
Mark Vanderbeeken interviews the Director of Torino 2008 World Design Capital


Bombing Modernism:
Graffiti and its relationship to the (built) environment, by Amos Klausner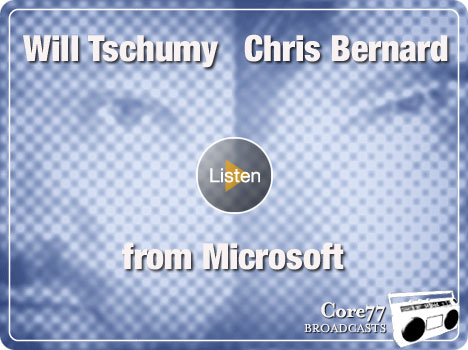 Core77 Broadcasts: Will Tschumy and Chris Bernard
Interviewed by Steve Portigal


Core77 Broadcasts: Mitch Nash
Interviewed by Steven Heller
March 2007


CORE77 BroadcastsS!
Core77 launches its podcast series of audio and video shows. Amazing hosts + fascinating guests. Dial it in and listen it up!


Plastics Primer
Not Created Equal: A long, (loving) plastics primer, by Carl Alviani


Parallel Universes
Making Do and Getting By + Thoughtless Acts (Mapping the quotidian from two perspectives), by Kevin Henry


Core77 Offsite PDX 2007
Core77's Offsite series lives on in Portland, Oregon at Someday Lounge, featuring Derek Welch and Jason Bacon of UNKL. Check out the gallery!


Core77 Broadcasts: Ze Frank
Interviewed by Alissa Walker


Core77 Broadcasts: Karena Albers
Interviewed by Alissa Walker


Core77 Broadcasts: Emilie Baltz
...on Coffee


Core77 Broadcasts: Steve Glenn
Interviewed by Alissa Walker


Core77 Broadcasts: Debbie Millman
Interviewed by Steve Portigal


Core77 Broadcasts: Maira Kalman
Interviewed by Steven Heller
February 2007


2007 CES Photo Gallery
224 images of what happens in Vegas each year by Emilie Baltz


IMM Cologne - 2007
102 images from the Cologne Design Fair, by Arnold Van Bezooyan


D.I.Y. ID: Indie Designers on the Rise
How young designers are making it on their own now more than ever, by Jeannie Choe


Postcards from Palm Springs: Modern Gems in the Desert
Photos and commentary on modern architecture in the California desert, by Mike and Kristina Ditullo

Core77 Broadcasts: Nathan Shedroff
Interviewed by Steve Portigal


Core77 Broadcasts: Core77 Broadcasts: Chris Miller of LifePlays
Interviewed by Steve Portigal


Core77 Broadcasts: Frank Luca of the Wolfsonian
Interviewed by Steven Heller
January 2007


Transversing Design Now
A review of the 3rd Cooper-Hewitt Triennial, by Alex Terzich


Beware the Backlash
A rising tide of disaffection towards design, by Kevin McCullagh


Competitive Summit '06:
A review from the UK Design Council, by Nico Macdonald
December 2006

Core77's Ultimate Designer-Holiday Gift Guide!
77 Design Gifts for under $77


More Brain, Less Storm
How to think creatively about thinking creatively, by Michael Flanagan


Design 2.0 Boston Podcasts and Photos
Couldn't make it to Boston? Check it all out here.
November 2006


5 Keys to Promoting Thoughtful Design Leadership in Education


Materialica 2006 Gallery
Arnold Van Bezooyen's photos from this year's show


Wired NextFest Gallery
Glen Taylor prowls the show at this year's futurama
October 2006

Design Week 2006 Galleries
Core77's comprehensive coverage of this year's show


Light Objects Design Competition Results!
We've got the winners, runners up, and notables from our latest design competition


Istanbul Design Week 2006 Galleries
Arnold Van Bezooyen's tidbits from Turkey
September 2006


The SolarShuttle: Rain or shine, this boat powers on.
Jennie Winhall takes a ride on Britain's SolarShuttle, and reports back on a wonder of technology and design


Those Who Can, Teach: 1000 Words of Advice for Design Teachers
Following up on his
1000 Words of Advice for Design Students
, Allan Chochinov breaks down what every design teacher needs to know



Toward a Cultural Innovation: Why American designers need more point-of-view
Scott Klinker argues that for American design to stay competitive, it needs more than off-the-shelf innovation
August 2006


Classroom Case Study: Drug Marketing
Designers at the Institute of Design offer solutions in the face of a direct-to-consumer advertising ban, by Brianna Sylver


The Definition of Industrial Design? It's right there in the title.
Gadi Amit fights through the hype for a good definition


Last Man Standing: 80 years of Teague Design
Michael DiTullo celebrates Walter Dorwin Teague, the man, and the firm
July 2006


Core77 BluFom Sneaker
In honor of Core77's 11th Anniversary, we teamed up to produce BluFom- -an old skool homage to industrial designers everwhere


Corporate Social Responsiblity:
You must remember this, by Steven MacGregor


Upping The Ante: Understanding business & design through casino poker - Part 4
Courage: The final installment of a four part series by Dirk Knemeyer
June 2006


Core77's 11th Anniversary Party!
Check out the pics from our celebration

New York Design Week 2006 Gallery
Core77's comprehensive coverage of this year's show


Design Mai 2006
Arnold Van Bezooyen`s images from the Berlin fair


Dreaming of a City:
A Letter from Design Mai, by David Womack and Alice Twemlow
May 2006


Milan 2006 Gallery
Core77's comprehensive coverage of this year's show - 356 images!

Material Trends 2006
Arnold Van Bezooyen's images from Frankfurt's fair


Marketing Your Design Firm:
How to brand yourselves as well as you brand your clients, by Adam Lerner


Aspen Design Summit Roundtable:
What to expect when you're effecting (change)
April 2006


Designing the XBOX 360
David Kemp twitches on the role of collaboration


Art Center Conference
Janet Abrams reviews Radical Craft, the second Art Center Conference


Building a Better Mousetrap, Literally
Smart Design holds an in-house design competition, by Tim Kennedy
March 2006


Simple or Simplistic
Cordy Swope on the limits of business books.


Letter from Asia
Drive-by observations from Steve Portigal.


Is Design Political?
Jennie Winhall looks at the politics and potential of design
February 2006

Design By Committee
Disney + Graco + Evo Design = what, exactly? By Annemarie DeLuca


Putting the "Desi" in Design
Why the Indian design community is uniquely equipped for emerging markets. By Niti Bhan


Upping The Ante: Understanding business & design through casino poker - Part3
Part three of a four part series by Dirk Knemeyer
January 2006


16 Manufacturers, 175 Products, 7 Weeks
Reflections on a mission to Manila, by William Gordon.


What does "Innovation" really mean?
How to insure a success with your clients, by Brianna Sylver


Reinventing the Wheel
Pushing the limits in high performance bike design, by Steven MacGregor
December 2005


Material Vision 2005
Arnold Van Bezooyen`s images from Frankfurt's fair


Trademarks, Not Patents: The real competitive advantage of the Apple iPod
By James Conley


Upping The Ante: Understanding business & design through casino poker - Part2
Part two of a four part series By Dirk Knemeyer
November 2005


Dutch Design Week
Photos from the fourth annual Dutch design week in Eindhoven


Tokyo Design Week
A series of presentations in shops, galleries & cafes and a student exhibition showcasing work from universities throughout Japan


Shopping For Innovation
Hiring a design firm - a primer. By Steve Portigal and Niti Bhan
October 2005
[Review]
A collection of images from the show at the New York MoMA, opening October 2005.


Design Education Today
Stephanie Munson and Bruce M. Tharp review the 2005 Eastman/IDSA National Education Conference.


The Best Leads Anywhere: Ralph Caplan's Cracking the Whip
Fairchild Books publishes a new collection of Essays by Ralph Caplan.

London Design Festival 2005
150+ images from the 2005 design festival in London, including shots from 100% Design and Designersblock.
September 2005


Upping The Ante: Understanding business & design through casino poker
A four part series By Dirk Knemeyer


Orient-Orientation: Twelve Designers = Six Answers for Istanbul
Arnold van Bezooyen reports on 6 projects aimed at first-time visitors to Istanbul.


Designersblock Frankfurt 2005<
Galleries of images from the event.
August 2005


Surviving The Flood: A Review of the Rotterdam Architecture Biennale
Deena DeNaro visits the exhibitions and reports back on the hightlights.


We Got Sick of Hearing About Design & China, So We Got on a Plane and Went There
Bruce Tharp and Stephanie Munson travel to China to check out both the real and the perceived rise of Chinese.
July 2005


Taking the Middle Ground: Massive design for the masses?
Carl Alviani examines 5 design/manufacturing groups and how they ride the line between mass and class.


4 Countries, 4 Futures: Tom Klinkowstein's Horizon Projects Workshops
Participants reflect on what is was like to participate in these future-envisioning events.
June 2005


Interview : Rob Walker
Holly Taylor catches up with Rob Walker, New York Times Magazine "CONSUMED" columnist.


Design Mai: Berlin
A huge gallery of images from Arnold Van Bezooyen and Jeroen Visser.
May 2005


New York Design Week
Back on home turf, Core77 seeks out the freshest designs on the streets of New York.


Dutch Design: The Next 10 Powerhouses
Venka de Rooij, managing director of Dutch by Design, takes a look at the next 10 up & coming designers out of the Netherlands.


Milan Design Week
Total photo coverage from the biggest furniture fair of the year.

Core77 Offiste Event
Core77 kicked off the New York Design Week with a killer Offsite party featuring lighting designer James Clar.
April 2005


Seismic Shift: Rethinking the Design Industry
Niti Bhan looks at the facts, the design industry must respond to their customer's needs, retool and reconfigure their offerings, and structure engagements based on value rather than cost.


Visionary Stupidity
Cordy Swope takes a look at the concept of Bad Design as Good Strategy.
March 2005


Behind the Curve
Amos Klausner gives the lowdown on the Blobjects show at the San Jose Museum of Art.
February 2005


The Unbelievable, True Story of Automoblox
One designer's journey into global manufacturing and distribution


Interview: Dan Yaccarino
Design-minded children's book author and illustrator
January 2005

DesignSlam#01
Non-consumables for consumers - a quick design competition


CES Product Gallery
Pics of our selections of the hottest products at the 2005 CES in Las Vegas


Design is 9/10ths of the Law
A behind the scenes look at creating a legal guide for design firms


ITP End-Of-Year Show
A look at recent projects from NYU's Interactive Telecommunications Program


Looking Back at 2004?
Steve Portigal reflects on the media overload of 2004
December 2004


Napkin Sketch Results
The results from the CATIA+Core77 Napkin Sketch Competition are in! 750+ entries, five winners & notables.


Essay: "American Design," Anyone?
Carl Alviani discusses the paradox between European Design and the home-grown kind.


Opinion: While You Were Out
Niti Bhan reflects on the changes happening in the global business of design. Oh wait, they already did happen.
November 2004


Value Meal: Design and (over)Eating
View the US exhibition for the International Design Biennale in Saint-Etienne, France.


Massive Change
Caroline Dobuzinskis visits Bruce Mau's exhibit at the Vancouver Art Gallery.


Essay: The New Strength of Style
Amos Klausner on Dyson's resignation and the reexamination of 'form follows function.'


Offsite in Boston!
A recap of of our open-mic Offiste, Curated by Vessel. Almost an entire design conference in one single nite!
October 2004


TIMEX2154 - - Design Competition Results
All the results from our TIMEX2154 International Design Competition. Wrist-Based. Wearable, and Conceptual categories, as well as many Notables.


London Design Week
Human Beans assemble a sampling of the weird and wacky from the fair. Good design is so over.


Opinion: Emotion (vs.) Intellect
Tucker Viemeister weighs in on a designer's place in the rational world.


Cultural Construct: Travel photos from Cuba
Stephanie Munson and Bruce M. Tharp cast a designer's eye on Cuba, sharing a scrapbook of Cuban Vernacular, Mobility, Decay, Murals, and Cuban Life.
September 2004
ALL EDUCATION ISSUE!


Design School Finder
Search for School Programs around the world, use the new School Comparison Tool, or view the Entire List.


Opinion: Deep or Wide
Pete Zerillo discusses the age-old dilemma for design schools: Train workers, or educate students?


1000 Words of Advice
Allan Chochinov breaks down what every design student needs to know. Fast.


Why Grad School?
Niti Bahn on the reasons to choose graduate study.


Assembling a Competitive Application for Graduate Studies
A guide through the application process with tips, do's and don't's.


If I Knew Then What I Know Now
A special discussion board feature dedicated to spreadin' wisdom to design students entering the new school year.

DIS2004 Trip Report
Angela Chang and Jonah Brucker-Cohen review this bi-annual conference on interaction technologies and applications.
August 2004


The Top 10 Myths and Truths about Design in China
Elaine Ann tackles the perceptions and realities, from "All design jobs are going to China" to "Time equals money in China."


Summer Reading
Book reviews of two new books from Phaidon: Supernatural: The Work of Ross Lovegrove, and Ron Arad, In Conversation with Matthew Collings


Essay: All We Ever Wanted
Adam Berninger targets the necessary criteria for useful objects.


Marketing a Design Firm 4
In his forth installment of the series, Joseph Kelly profiles Boston's Altitude.
July 2004


Dissection
Design decisions through product autopsy: Justin Petro rips apart his Moto V.70, revealing the truth wihin.


Emofurn from tovdesign in Belgium, INDEX: in Copenhagen, and competitions from the bottom of the world


Opinion
Cordy Swope on the routes to becoming a design star, and the problems you face when you get there.
June 2004


ICFF 2004
Parties, furniture, galleries, New York City....what's not to love? Six photo galleries; over a hundred pics.


DesignMai 2004
Human Beans and their review of Berlin's design week

Marketing A Design Firm 3
The third installment of Joseph Kelly's series on building and selling a design firm, profiling id-ONE


21st Century Design
Offsite's Mark Palmer and Russ Branaghan discuss what design research can bring to the product development table
May 2004


The More. The Merrier.
From FanFic (fan-created fiction) to Photoshopped product imaginings, Steve Portigal writes on the blurring of the line between producer and consumer. What does this mean for the practicing designer, and does it signal a new direction for participatory design?


Milan Design Week 2004
Hundreds of shows, galleries, exhibitions and parties make Milan the annual Mecca for designers worldwide. Tons of fresh photos from the recently concluded extravaganza


Speed
The results of the third installment of the PopSci/Core77 Design challenge
April 2004


By Design - - Special Issue:
Ralph Caplan's seminal design book is about to be reissued, and Core77 takes a look at the man, the message, and the manuscript.


Art Center Conference
Ian White reports on the recent conference in Pasadena.
March 2004


RoundTable with Paola Antonelli
An international panel of writers, designers, and editors discuss the position of design in the media


Consuming Design
Human Beans visit the Thomas Heatherwick – Conran Foundation Collection at the London Design Museum


Opinion
Tom Reynolds on the collision of art and design in museums


Offsite!
Presentation by Julie Müller Stahl in New York City
February 2004


Institute Without Boundaries: Massive Change
Reflections on a year-long design program inside the Bruce Mau Design studio


Design Within Reach's Nelson book, Roweena Reed Kostellow award, and Walk the Plank



Opinion
Dan Hill on Apple's pursuit of perfection: Insanely great, or just good enough?


From the Trenches 2: Marketing a Design Firm
Part 2 of Joseph Kelly's series examining the growth of design firms, profiling Jeff Miller Design
January 2004


From the Trenches: Marketing a Design Firm 1
Joseph Kelly kicks off this six-part series examining contemporary design firms at various stages of growth


Discussion Board RoundTable
This month's RoundTable features leading thinkers on design research, moderated by Bruce Tharp


Opinion
What use are people anyway? Human Beans on user research and participatory design
December 2003


Industry Snapshot
The results of our second annual design industry survey are in!


Thought at Work
A review of the student design conference that taught the big boys a thing or two


Opinion
Cordy Swope on automotive design, road rage, and the rituals of self-expression


Offsite!
Images and a write up from last month's Design-A-Palooza in Los Angeles
November 2003


Siemens designlab
Andre Dettler reflects on his experiences inside this nine-student design charette


Liquid
Giving a second life to objects through design


Letter from the Front Lines
Ian White debates the merits of going it alone
October 2003


Brooklyn, Three Ways.
or You can take the boy out of Brooklyn, but...



More Than 100%
Human Beans on The London Design Festival


Blog: Compostmodern
Amos Klausner starts a new blog on putting together a conference on sustainable design


Tokion Conference
Deanna Dumbrys takes a look
September 2003


Interview: Aurelie Tu
Bob Parks interviews one of Nike's product designers


NYC IDSA Conference, Neus Museum, Droog


Barcelona Postcard
Amos Klausner reflects on the Year of Design


IDSA Education Conf
Bruce Tharp writes up last month's gathering of design educators (with photos!)
August 2003


Attention Kmart Shoppers
Kate Bingam on her beloved local Kmart, shutting its doors for good


Props for a Non-Existent Script
Human Beans review 'Design Products' at the RCA show


Spark:03
Steve Portigal weighs in on last month's San Francisco Conference
July 2003


Opinion: Natalie Jeremijenko
Tower of Power: Trust and Reengineering Participation - - Open source architecture for lower Manhattan



Transformation
Reinventing The Home



Interview
Roy Thompson, senior designer at Continuum


Trial & Error - Beyond Imagination
Working models from architectural practices around the world
June 2003

Canary In A Coal Mine
See the pieces, the exhibiton and the party that Core77 put on for the first ever Coroflot Members Show


Freitag, DesignMai, Sublime, Zirkeltraining, Heisse Ware, Loftcube, Treibwerk



Opinion: Andrew Zolli
Pixelvision: Celebrating the 50th anniversary of the pixel


ICFF 2003
A review and image collection from last month's fair in New York City
May 2003


Milan 2003
Human Beans comment and review selected installations from last month's furniture fair


National Design Triennial
A review of the "Inside Design Now" show at the Cooper-Hewitt Design Museum in New York City


Paper: The Cage of Aesthetic Convention
Why the design world needs the Avante-Garde


Portuguese Design
A new book and conference showcases design in Portugal
April 2003


Undesigning America
Undesign is more than nostalgia. It is wild space. At the urban core there are still pockets of wild-ness


Designer of the Year
HumanBeans report on the selection from the Design Museum in London


Dead Malls
Competition results from Los Angeles, CA


Opinion: Cordy Swope
The Imagination Market: How creatives solve problems the pentagon can't
March 2003


Miam-Miam
This international design collective examines the idea of food-sharing, and comes up with some tasty results


Education
Get ready for the summer- -with courses in Italy and London


Canada Design
Todd Falkowsky doesn't go up north, he lives there


The Bunker
The latest in an ongoing series of collaborative works by Lindroth + Newick


Opinion: Allan Chochinov
Something for nothing: The costs of design
February 2003


Materials
New! Core77 launches its Materials & Processes section. Learn, source, ask, chat, and share. Materials&Processes are the new Form&Function!


Personal Transportation
We give you the hottest in personal transportation


Smart Fabrics
Amos Klausner on the new "techstiles"


Droog in London
Human Beans takes a peek


Opinion: Natalie Jeremijenko
The role of designer as social revolutionary
January 2003


Zirkeltraining Interview
Our first feature in German! Frankfurt-based design group Zirkeltraining expound on lucky wedges, temporary tattoo clubs and french soccer coaches


The Winners
We give you the Results of three recently concluded design competitions


Opinion: Amos Klausner
Frank Gehry, the WTC, architecture and brand


Flow
Human Beans report on the latest Doors of Perception Conference


Restaurant Design
Madness in the SF Bay area
December 2002


Opinion: Cordy Swope
On Shopping: Despite predictions and the salvation army, spending money with a lesser sense of purpose and more of a sense of resignation


Smooth Sailing or Rough Seas
Sally Slevin on a Spanish galleon that was built onto a school bus


Offsite..Again!
Core77 brought it back home to Brooklyn, NY for our latest event - Nov. 19


Swiss Expo 02
Human Beans reminiscing sunnier times


The Student Life
Thoughts on a design education in progress
November 2002


Physical Computing
Articles, Interviews, Opinions


Smart Environments
with Lisa Sundbeck


The Zoology of Physical Computing
with Joey Stein


Designing Systems for Human Interaction
with Camille Utterback


The factory of the future, Wide world of design, Rock on

October 2002

James Dyson and a Cleaner America
Allan Chochinov interviews one of contemporary design's greatest


Europe
Reporting on news from Germany, Italy, and Israel. Ok, so its stretching the boundaries of Europe a little...


Offsite!
Phil Frank shares his insights


Firstop
Celebrating design, Brooklyn-style


Freq Out
A report on one aspect of the London Design Scene
September 2002


The Design Business
The results of our industry survey are in! Over 600 design professionals from around the world reveal their strategies for growth and prosperity in a difficult economic climate


Brooklyn Design
Firstop, a design organization based in Williamsburg section of Brooklyn, NY, is organizing a celebration of the neighborhood's thriving design scene.


Interview: Tobias Wong
NY designer Tobi Wong tells all

Trailer Park
A fresh look at vintage Airstream


Designer Playlists
25 new lists added for September!
August 2002


Design Legacy
Ryan McManus tells the story of a mid-century design classic brought back to life


Digital Design Tools
An interview with IDEO designers


IDSA 2002
A collection of reports from the recent conference
July 2002


Design With Personality
A nice little product from Japan


Bicycle design, Stark at Target



IDSA South
A report from the recent conference


Putting A Face On Design
Applied design styles
June 2002


ICFF 2002
Core's own Aylin Sayek reviews the best and brightest furniture designs from this year's show in NYC


Links, Mentoring in LA, Release 1 on the road



Core77 Competition 2002 Exhibit Opening
Couldn't make it? Check out the photos
May 2002


Competition Results
Join us in the real-time "Land of Winners" gallery. Browse the top 10 concepts and 27 runner-ups and then vote for your favorite!


Skin, Links, Life in the fast lane



Ford's J. Mays: the Core interview
Read what Ford's design guru has to say about current auto trends


Design Party in Milan
Our 2nd annual design bash, this time featuring cops!
Join Our Mailing List

©2013 Core77, Inc. All rights reserved