| | |
| --- | --- |
| | Nouvelle Cuisine Revisited |
by Jessica Walters
The San Francisco-based international design collective Miam-Miam has launched their second wave of innovative food sharing concepts and reinvented their website to allow visitors to more clearly understand their vision for modern day food-sharing. As Miam-Miam revisits nouvelle cuisine--the term coined in the 1970s by journalists Henri Gault and Christian Millau to describe the dramatic changes occurring in the preparation of restaurant food-–they focus on the shifting in diners' perception of what it means to share food with one another. The design collective brings to life the idea that it's not only how food is prepared, but more importantly, how food is shared, served, and enjoyed. According to lead designer and co-founder, Nicolas Denhez, Miam-Miam is the "essence of playing with your food. We want to reintroduce people to the concept of using meals, or 'food-sharing' as a way to relax, entertain, and bond with friends and family."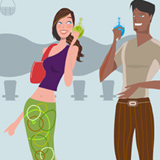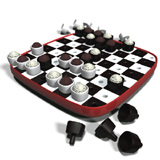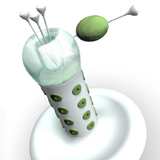 The initial concept for what later became affectionately known as Miam-Miam-–French for "yum yum"–-was incubated during a 3-month stint when Nicolas Denhez and Bruno Constans were colleagues at Lunar Design.Inspired by the prolific dining opportunities in San Francisco, brainstorming ideas for innovative ways to capitalize on this "foodie" culture became a favorite passion.

Denhez, French-born senior industrial designer at Lunar, was always captivated with anything to do with the enjoyment of food, whether haute cuisine or local street fare. His ability to quickly conceptualize and visually depict his unique ideas for food games, whether geared toward swank clubs, teen hangouts, or family affairs, was equally met by Constans' strong engineering experience. Eventually, a third member was added to the mix–former Design Center classmate Philippe Vahe--advanced design manager for Decathlon, who through his strong 3D expertise brought to life the physical aspect of the conceptual products.


Although the French trio invented the Miam-Miam concept in person, the ongoing design, development, launch of the brand, and now initial prototyping has been an entirely virtual experience. All three collective members currently work full-time in design consultancies around the world and have learned to become expert at working with multiple clients, in remote locations and across time zones. This translates into communication solely via email, PowerPoint presentations, renderings, 3D CAD, and teleconferencing-–no face-to-face communication.

Miam-Miam has used these tools and potential restraints to their advantage. One evening Denhez renders a product in San Francisco, which is then immediately received by Vahe in France to complete the 3D CAD. By the next morning, Denhez has received a completed CAD in his email in-box and the cycle continues once again as he forwards it on to Constans in Switzerland to prepare for an upcoming conference call. The team has discovered untold efficiencies in using time zones and long-distance project management skills to leverage their virtual team.
| | |
| --- | --- |
| As is the nature of design consultancies, the collective members are accustomed to working within tight deadlines, quickly creating multiple concepts, and expressing ideas efficiently and to the point. They use these same practices to present concepts to one another via electronic presentations, without ever needing to sit in the same room and spend a lot of time describing concepts verbally. They have also discovered the great value in using 3D tools to accelerate the design process. Although 3D tools are not typically utilized for tableware–-dishes and glasses have been designed the same way for centuries, through sculpture and prototyping--the team has found it to be a key area in which they can innovate the design process and immediately see the value of any given concept. Once Vahe models a concept in 3D, Denhez and Constans can see the surfaces, spin it around, and get a feel for the product without ever having to make a costly model too soon in the process. | |

According to Vahe, "The primary advantage of having realistic renderings, created virtually, is that we can efficiently approach prototypers with already prepared 3D surface files. Working in the design industry, we are in constant contact with talented professionals, such as model makers, engineers, and prototypers. This has really helped us gain exposure to interested partners and vendors, and to quickly get our innovative food-sharing products to market.
| | |
| --- | --- |
| Miam-Miam has also leveraged their experience in having worked in Silicon Valley on high-tech products for niche markets. They have taken the knowledge and tools acquired in creating these specialized high-tech products to now design more mainstream products for food sharing. They are accustomed to achieving a quick turnaround time from ideation to industrialization in just a few weeks or months. Bruno Constans, fellow Miam-Miam member and product engineer for Ebel, comments, "We're now applying this aggressive process to tableware, which allows us to create a greater number of successful concepts and release new products each season. It's really made a difference both in cost and time savings." | |
Rather than immediately manufacturing all the products within one specific material, the collective purposely created a wide range of products with the ability to utilize many different materials, whether ceramic, plastic, or elastomer. As witnessed on their website, www.miam-miam.org, the products convey a certain playfulness and distinct "miam" message. Miam-miam also designed a virtual restaurant that serves to feature the products and continues to help change the mindset toward how food is savored and beverages are imbibed and enjoyed. All the products and the restaurant concept are featured on their revised website as a "magic show" for potential investors and interested parties.

Through its innovative new products, Miam-Miam continues to revisit the idea of nouvelle cuisine, with a new definition--how food is shared and enjoyed.

---
Jessica Walters is a consultant who uses experiential learning and self-awareness to help her clients tap into their own creativity and be more innovative at work and play.