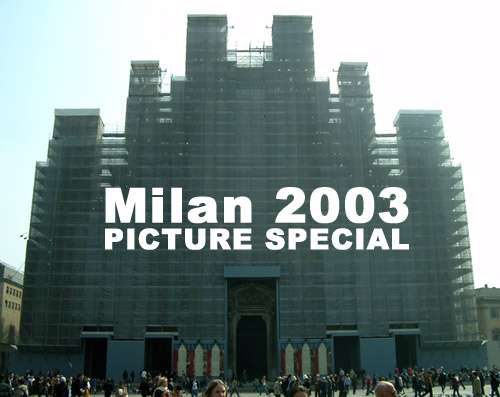 by Human Beans
The Milan furniture fair is the premier event of the European design calendar, it sees superstar designers, manufactures and hopeful graduates alike traveling to Northern Italy to peddle their wares. Human Beans felt obliged to join them for some early spring sunshine, a glass or two of Rioja and more design than a person can safely handle. Avoiding the treacheries of the chair-fair we've spent our designer's shoe leather on the Via's and Viale's of Milano to bring you the most inspirational work from the satellite shows.
DESIGNERSBLOCK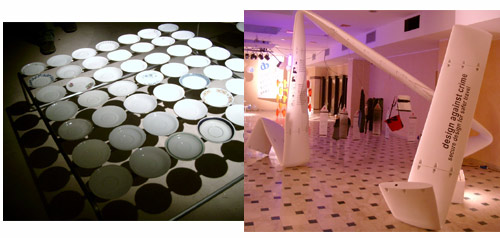 The Designersblock show was a big hit with the press this year. We were tickled by the Plate U - Coffeetable by Veli-Matti Tolppi of IMU, Finland's self appointed national design team. In a rare example of designing for an identified need, Vexed Generation and Central Saint Martins showed their Karrysafe anti-crime bags, with a particularly funky exhibition stand by Ansel Thomson
THE BIG BOYS, CAPALLENI AND MAGIS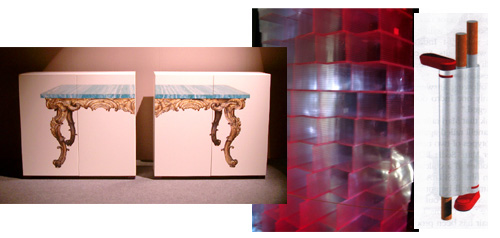 This year, from the major Italian manufacturers we liked Cappellini's pragmatic elegance for hard times; standard (yet reassuringly expensive) cabinets printed with images of classic furniture. Magis continued their playful designer led experimentation. Including a prototype of the S.O.S (Sort of Storage) modular shelving from Ron Arad and Alex Kufus' Just 3. A pocket case for three cigarettes - which asks you to take the time and savour the moment, a most elegant way to reduce your intake.
INGO MAURER WITH PAUL COCKSEDGE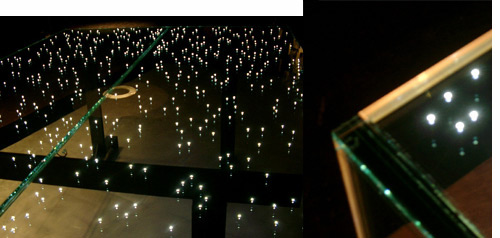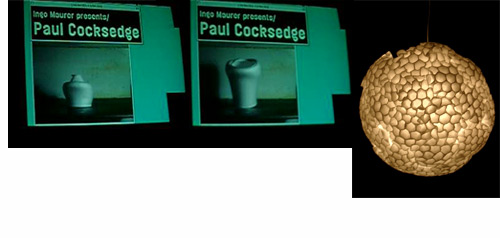 We gasped with wonder at Ingo Maurer's table top. LED's suspended in a pane of glass without a wire to be seen! Sharing his space recent RCA graduate Paul Cocksedge showed a rage of lighting innovations, we were once again mesmerised by his video of polystyrene cups deforming in an oven.
THE DUTCH HAVE IT - DROOG, FREEDOM OF CREATION & EINDHOVEN DESIGN ACADEMY
Over the last 6 months we've probably written more about Dutch design than anything else, West 8 architects at the Swiss expo, Droog Design and Tord Boontje's nomination for Designer of the Year. At Milan the Dutch continued to successfully defended their position as European design heavyweights, here's the best of it from Droog Design, Freedom of Creation and Eindhoven Design Academy.
DROOG DESIGN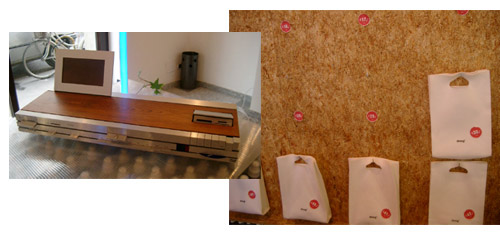 Droog served up a tour de force with new editions to their collection including:
Bootleg Objects by Zirkeltraining, Hi-Fi design classics updated to play Mp3's and internet streaming radio. One wall was hung with 50 differently priced bags by United Statements. Identical bags for sale with prices ranging from €1-€50.
Onkar Sing Kular presented 128 Pantone Mugs coloured from beige to brown - the idea being to choose the mug to match the colour of you perfect cuppa. Maartje Steenkamp's children's highchair comes complete with saw and sanding paper - as your child grows lower the chair by cutting the legs. A comfort for sore tummies - Susanne Philippson's T-shirt is embroidered with cherry stones which will retain their heat after being warmed in a microwave.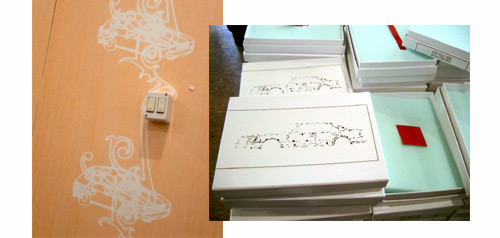 Simon Heijdens' Moving Wallpaper is printed with thermo-chrome ink. Flick the switch to heat the paper and change the design. Ted Noten's broaches are cut from the bodywork of a Mercedes Benz, touchingly each box comes with a diagram indicating where your broach originated.
FREEDOM OF CREATION WITH MATERIALISE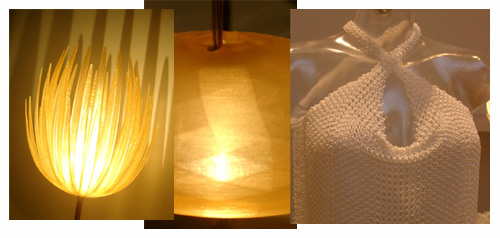 Freedom of creation specialise in developing products that utilise 3D printing technology, they showed a beautiful range of lights which can be stored virtually and manufactured on demand. Most impressive of all was the chain mail like3D Printed fabric.
DESIGN ACADEMY EINHOVEN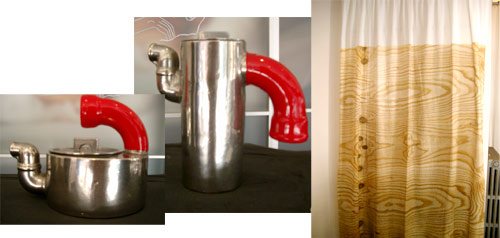 We laughed with joy at Mark Van der Gronden's well proportioned Heavy Duty Tableware - then we tried to pick them up... At the same strong show The Wooden Curtain inspired by boarded up windows, by Sannah Belzer.

ABET LAMAINATI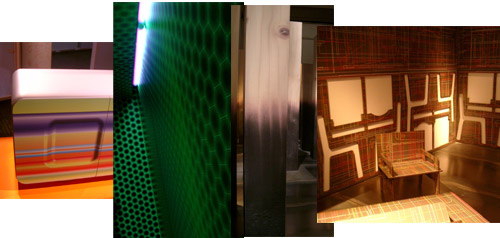 Abet Laminati created the original laminates used by Sotsass and Co at Memphis, they've continued to work with designers to create equally, um... challenging, patterns since. In Un nuova generazione di superfici (A new generation of surfaces) they showed a range of digitally printed laminates each designed by a different design team, including El Ultimo Gritto who showed a laminate printed with patterns to cut your own furniture.
SWAROVSKI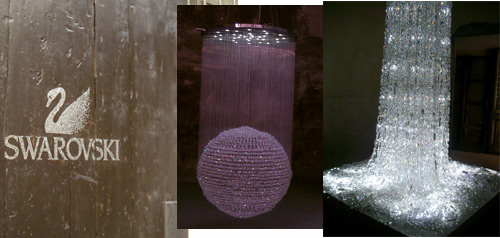 We can almost forgive crystal makers Swarovski for all those hideous crystal dolphins after a stunning show of new chandeliers, well almost...
CHAIR OF THE FAIR
And finally to the awards. Human Beans 'Chair Of The Fair' award goes to this contraption, discovered in a courtyard off Viale Pasubio it delighted us and evoked childhood memories as we went round and round and round...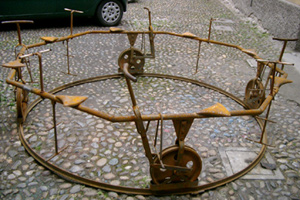 UGLY MUG
Annual winner of the Human Beans 'Ugly Mug' goes to this monstrosity - yes, it is a 3 meter ceramic cactus-inspired towel holder. Be ashamed of yourself designer - you know who you are!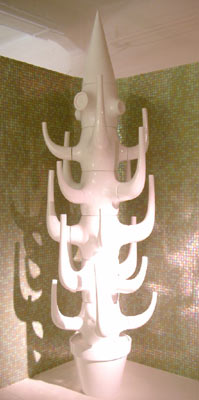 ---
Human Beans live, design and write from their home base of London.