How to Work the Design Blogosphere: Design Blog Editors Teach You How to Get Your Shit Published Online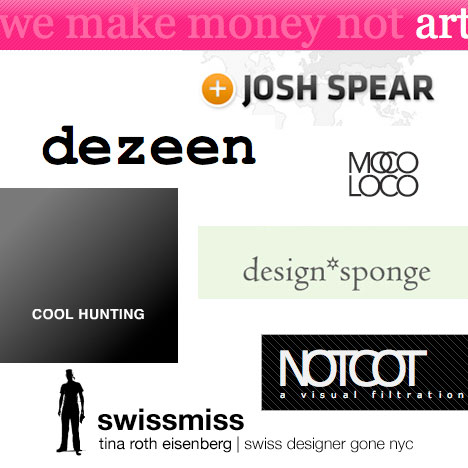 "Dear Core"? "Dear Core Editor"? "Hey Core, I love you and I'm wondering if you'll publish my..."? What are the Do's and Don'ts of sending your stuff in to design blogs? We asked the editors of 7 top design blogs for their advice. Most common advice?: No PDFs, and send a thank you note if they publish you.

Tina Roth Eisenberg, Editor, swissmiss:
I highly appreciate reader submissions and I receive about an average of 10-20 emails a day. These submissions are as diverse as can be. One thing I've learned: There's a fine line between 'pointing me to a cool product/site' and just flat out saying 'you have to link to this'. When you approach a blogger and seriously want to be considered to be featured on their site, keep a few things in mind:
1. Send a personal email. Show that you actually read their blog. Address the blogger by name. Mention a recent post you've enjoyed and explain why you think you think your submission is a good fit.
2. Suggest, don't ask. Suggest a product/site/artist for review but do NOT flat out ask to be linked up. If a blogger thinks your submission is a great fit for their blog they will get to work right away anyway. Let it be up to them. Always remember that most people don't like to be asked to do something. Also, NEVER ask to be added to someone's blogroll.
3. Keep it short. A lot of bloggers, like me, do this in their free time and have an overflowing inbox. Keep your email short and sweet.
4. Prepare a potential 'post'. Chances of your suggestion being considered raise tremendously if you prepare a possible post about your suggested product/design/link. The blogger can then take that writeup as a starting point for a post. Do NOT send Microsoft Word documents, or PDFs. Everything should be in your email, ready for 'copy and paste'.
5. Enclose images/screenshots. Include images but make sure that they are low resolution (screen resolution: 72dpi) and do not enclose more than 3-4. If there's an image downloads page available, make sure to mention the link.
6. Don't take it personal if you don't hear back. Sometimes it's hard for bloggers to keep up with their ever-growing inbox. If you are confident that your submission would be a perfect match, you could potentially resend your email with a sweet little note saying 'just in case you might now have seen this the first time'. But do not resend more than twice.
7. Say Thank You. Should your submission have been considered, make sure to send a note of thanks.

Heather Ann Snodgrass, Editor, JoshSpear:
Be nice. Make an effort to illustrate that you actually know the site and you're not so obviously spamming a bunch of different people at the same time—and, if you're going to do that, please learn to BCC your addresses. Be succinct, to the point and follow up a few days later if there're no bites. Just because someone doesn't respond doesn't necessarily mean they won't run something...but don't repeatedly email back if there's no interest after a week or so. That's annoying. You know what else is annoying? TYPOS. Maybe that's just the editor in me, but please at least use a spellcheck before you send out your stuff.
If you do get lucky and we run something, drop the writer an email and thank them. Cultivating relationships and communication is a huge part of the design world, so if you learn to do that early, it'll get you a long way. And keep us updated on what you're working on; at JoshSpear.com, we only write about things we love, so chances are if you make it onto the site, we're already fans and are generally interested in what you've got going on, but because of the sheer amount of editorial we do, it's hard to keep track of everyone's progress. If we don't write about something the first time, all is not lost—just touch base periodically to keep us up to speed with your work. We are generally interested in helping you out, and will never pass on someone we think has real promise.
Oh, and send two, three pictures max—and we don't need the high-res type. As for PDFs, only send them if I ask you for one. I can count the number of times I've actually looked at an unsolicited PDF in the last six months on one hand.

Josh Rubin, Editor, CoolHunting:
1. Make direct contact. Find the email address for the editor you want to reach and contact them directly. We all have general feedback mailboxes, but those often are overflowing.
2. Keep emails short. We want to hear from you, but really just need the facts.
3. Send pictures. We're all visually driven--support the cause. And when you send pics, make sure they're web-ready (RGB color palette, 72dpi).
4. Offer exclusives. Send us something first and tell us you're doing so. Give us a chance to post or decline before moving on to the next site on your list. If you've been published already, tell us where and send us links.
5. We believe there are no new ideas, just great executions. Prove it!
I get a few hundred submissions a day in the fall and winter so I've seen all
types
of emails. Which ones do I think work best? In short: 3-4 photos under 2MB total, a short "about" paragraph that includes the basics (who you are, what you've made and what the details of the product/design are) and a link to where I can find more information on both you and your product.
Sites without loads of crazy flash are a bonus—sometimes it takes so long to get to the work on an artist's site that I just give up. Also, I'm not sure if this runs design blog wide, but I don't like to cover things that have been all over the print and blog world already. So I like to know up front if something's already been online or in print in a major way.
The last thing I would add is: please don't use a cut-and-paste form letter within an email (or at least fill in the blanks). It's always a clear sign that someone isn't trying very hard when their email starts "Dear Blog Editor". It doesn't take that long to find a blog's info page and it makes a big difference if you can use someone's name and at least be familiar with what the site does (bonus points if you make sure you spell their name correctly). I've posted things that break all these rules before but I'm much more likely to cover something online or in print that is simple, personalized and straight-forward. Also, don't be afraid to ask for advice or for an editor to suggest additional sites to contact if your work isn't right for their blog. I really enjoy passing artists that aren't quite right for D*S onto other great blogs in the field that are more appropriate.
Harry Wakefield, Editor, MoCoLoco:
1. Get an email address (MoCo gets snail mail with no email address!)
2. Get a website (I often recommend Coroflot, Blogger and Flickr—all free)
3. Make sure your website has all your contact info, including a phone number (so Target, the NYTimes or Surface can speak to you directly)
4. Make sure your website has images of the object you are submitting
5. Send the blogger a new image, ie. a different view from the one you have on your website
6. We're all lo-res, so send 800 pixel wide images (save the TIFFs for Surfacemag)
7. Put people in one of the images for scale, so that we can see how big the object is
8. Read
Designers are wankers
9. Bloggers are on your side and somewhat overwhelmed--send reminders and updates!
1. Avoid the group email. The worst is when a blogger opens the message and sees that it has been addressed to famous blogs that cover the same area. The one thing they will think is, "Oh, okay! So let others write about it then."
2. Design is design is design, right? Not necessarily. I write mostly about art, and sometimes about critical design and interaction design. So please target the blogs; don't send an email detailing your fantastic beige sofa concept to someone who only blogs about interaction design.
3. (Subtle) Flattery might get you there! Just add one witty line to explain why you think your work belongs to that particular blog.

Jean Aw, Editor, NOTCOT:
Ok, well first things first—NOTCOT is all about pictures—and let's be honest here, a picture makes quite the first impression, being designers, if images of your work don't grab me, why would I keep looking?
So, DO send images! and PDFs! (Just don't blow up my inbox with 10 emails or something please. They don't need to be 300 dpi images, seeing as we're working with the web, and if needed, we will always write back for more.)
DON'T leave out the link to your site, and try to have a specific link to your project's page (this is why flash sites can be a bit painful to get readers over to your site to finding what they are looking for).
DO make it clear what is a concept and what has gone into production. Half the crazy comments people write will assume that its already in production and that someone much richer than them is buying it. If it is in production and is available for purchase, make sure to link that. After all, you want people buying it, right?
DO send concept sketches with final renders and pics--people love seeing how you got there, and what inspired you along the way.
DO give a quick personalized summary of what your project is and why you think the readers will be interested.
DO send an exclusive to your favorite site first, and then spread the word accordingly. It's just a nice way to share the love, and try to convince someone to write about you?
And as a NOTCOT specific DO--post it at NOTCOT.org, and if the editor's love it, you're up!

Marcus Fairs, Editor, Dezeen:
Good work will get published no matter what, but there are three things that are important: images, images and images. They should be new and (relatively) unpublished, good quality, the right format (screen-resolution jpegs, 450 pixels wide in dezeen's case) and the more the better. Also, send text as text, not as a PDF. And don't try to pass off old projects as new ones, as you'll get found out!