How to Work the Design Blogosphere: Design Blog Editors Teach You How to Get Your Shit Published Online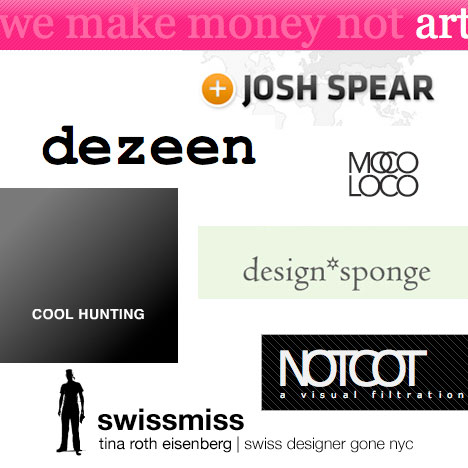 "Dear Core"? "Dear Core Editor"? "Hey Core, I love you and I'm wondering if you'll publish my..."? What are the Do's and Don't's of sending your stuff in to design blogs? We asked the editors of 8 top design blogs for their advice. Most common advice?: No PDFs, and send a thank you note if they publish you. Here are some highlights from each editor. Read the full text of their sage advice here.
Tina Roth Eisenberg, Editor, swissmiss:
Prepare a potential 'post'. Chances of your suggestion being considered raise tremendously if you prepare a possible post about your suggested product/design/link. The blogger can then take that writeup as a starting point for a post. Do NOT send Microsoft Word documents, or PDFs. Everything should be in your email, ready for 'copy and paste'.
Heather Ann Snodgrass, Editor, JoshSpear:
Be nice. Make an effort to illustrate that you actually know the site and you're not so obviously spamming a bunch of different people at the same time—and, if you're going to do that, please learn to BCC your addresses. Be succinct, to the point and follow up a few days later if there's no bites. Just because someone doesn't respond doesn't necessarily mean they won't run something...but don't repeatedly email back if there's no interest after a week or so. That's annoying. You know what else is annoying? TYPOS. Maybe that's just the editor in me, but please at least use a spellcheck before you send out your stuff.
Offer exclusives. Send us something first and tell us you're doing so. Give us a chance to post or decline before moving on to the next site on your list. If you've been published already, tell us where and send us links.
Don't be afraid to ask for advice or for an editor to suggest additional sites to contact if your work isn't right for their blog. I really enjoy passing artists that aren't quite right for D*S onto other great blogs in the field that are more appropriate.
Harry Wakefield, Editor, MoCoLoco:
Get a website (I often recommend Coroflot, Blogger and Flickr—all free); Make sure your website has all your contact info, including a phone number (so Target, the NYTimes or Surface can speak to you directly)
Design is design is design, right? Not necessarily. I write mostly about art, and sometimes about critical design and interaction design. So please target the blogs; don't send an email detailing your fantastic beige sofa concept to someone who only blogs about interaction design.
Jean Aw, Editor, NOTCOT:
DO make it clear what is a concept and what has gone into production. Half the crazy comments people write will assume that its already in production and that someone much richer than them is buying it. If it
is
in production and is available for purchase, make sure to link that. After all, you want people buying it, right?
Marcus Fairs, Editor, Dezeen:
Good work will get published no matter what, but there are three things that are important: images, images and images.