We all know that office spaces benefit tremendously from plant life—they bring warmth to an environment while absorbing toxins from nasty corporate air—but the trick is keeping them alive. Office spaces can be very unfriendly to plants, often characterized by low-light conditions, stagnant air, and, for many of us, hectic schedules interrupted by business trips and vacations. Luckily, the wide breadth of houseplant varieties offers options for all situations, from windowless spaces to constant traveling. And this doesn't mean that you'll be stuck choosing between a Spider Plant, a Pothos and a Ficus tree. Though resilient and often magnificent, we're here to tell you that there are many less conventional options, which, as creative types, we know you'll appreciate.
The basics
It's important to remember that the aesthetic and air purifying qualities of a plant depend first on its health. This doesn't mean that you need to pay meticulous attention to a watering and fertilizing routine—in fact, unlike more finicky houseplants, hardier office plants don't see much sun or expect much water, suffering most often from overwatering and root-rot. So be sure to research the specifics of any plant you're thinking of buying. Though they may not require a lot of maintenance, even the hardiest of office plants need the right combination of conditions to thrive.
A plant for any office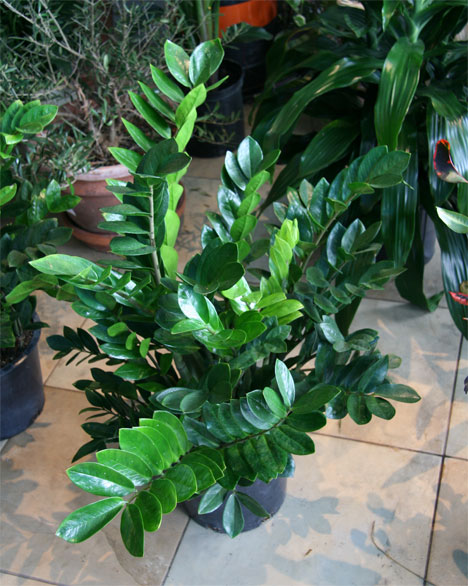 Zamioculcas Zamiifolia. Image: Foglie
The ZZ Plant, or Zamioculcas Zamiifolia, is a striking but amazingly robust plant that will do well in most offices, with a minimum of care. It can be placed in a wide range of light, doing best in filtered sunlight but tolerating anything from very low light levels to bright, indirect sun. Because it has a large potato-like root that stores moisture, it requires only infrequent watering. On top of all that, it will never attract pests. Like the Pothos or the Spider Plant, the ZZ's are easy to share with friends; propagate it simply by sticking a leaf into moist soil. Because the ZZ is a slow-growing aroid, keep in mind that it may take up to a year for the leaf to develop a substantial tuber.
For your windowless but (artificially) bright office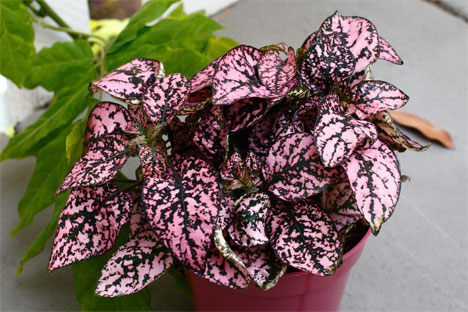 Hypoestes Phyllastachya. Image: Wikimedia
There are many plants that can thrive in about 8-10 hours of fluorescent light a day. Ferns are a popular choice, especially the bird's nest, rabbit-foot and brake varieties, but for something a bit more unusual in color, consider picking up a polka-dot plant (Hypoestes Phyllastachya), also known as the freckle-face. Like ferns, these plants like a high-humidity environment, and require a bit of monitoring. The soil should be kept lightly moist at all times, and because of its affinity for humidity, the polka-dot plant likes frequent, light mistings. If this seems like too much of a hassle, you can also group the plants with other ferns, as they will all benefit from the increased humidity. If the pink spots start to fade, the plant is not getting enough light—move it to a brighter spot on your desk or elevate it.

For your naturally-lit but dim office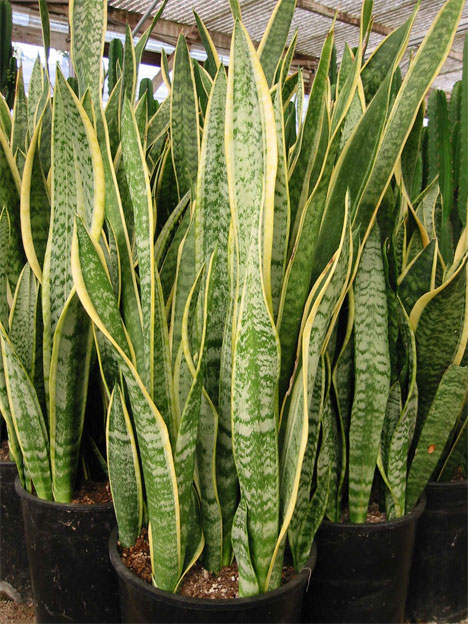 Sansevieria trifasciata. Image: Cactus Limon
If your office is lit only dimly by natural light, and you hate turning on the overhead lights unless you absolutely have to, the Mother-In-Law's Tongue (Sansevieria trifasciata) is an excellent option. Though the young specimens often found in grocery stores appear stumpy, this plant grows to great heights, looking surreal and aquatic with its still, wavy and variegated leaves. It does splendidly in low light, and, as a member of the Agave family, needs very little watering. Soak it once every two to three weeks, letting it drain completely. A word of caution: this plant likes to be rootbound, so don't transplant it prematurely. Let it grow in the container you bought it in, setting it inside a decorative pot instead of transplanting it. This also helps with watering; take the whole thing out, put it in the sink, and let it drain completely before putting it back.

For your sunny but unattended windowsill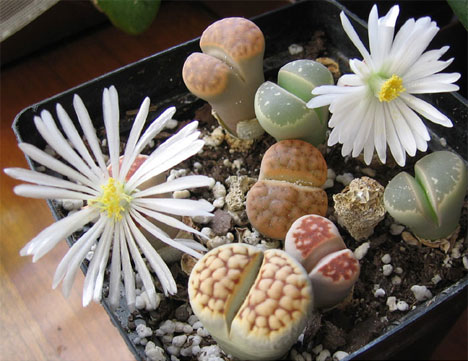 Lithops. Image: Friends School Plant Sale
If your plant woes are caused less by lack of light and more from being absent or too busy to pay enough attention, the Living Stone (Lithops) is the plant for you. Unusual in form, these tiny succulents have two fat leaves that replace themselves every spring, producing one big flower in the fall. As long as these tiny plants get 4 hours of direct sun a day, they'll do well, requiring light watering only twice a year: in the spring after the new leaves have absorbed the old ones (but not during the transition) and in the fall, when flowers appear.

For offices with air quality problems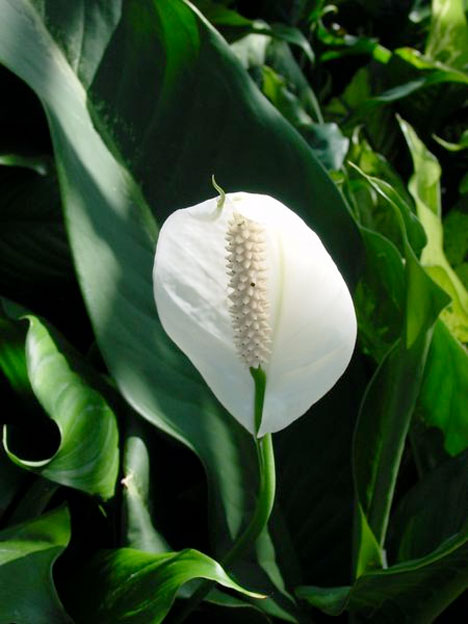 Spathiphyllum. Image: Wikimedia
Though all plants go a long way towards improving stale, indoor air, the Peace Lily, or Spathiphyllum, is one of the best, considerably reducing formaldehyde, benzene and carbon monoxide levels. This plant also tolerates a wide range of light levels, from low to bright, as long as it's kept lightly moist at all times, making it suitable for a wide range of office spaces. Aside from the health benefits, it's also a beautiful plant, sporting large, white flowers and glossy, dark green leaves.

A plant that won't die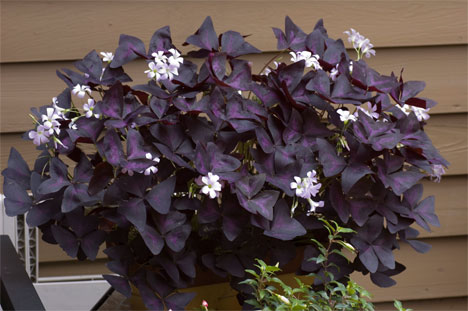 Oxalis regnelli. Image: Buddy Garden
Available in green, purple and silvered varieties, Shamrocks (Oxalis regnelli, triangularis or fanny) look delicate but, believe it or not, make wonderful flowering office plants and are almost impossible to kill. They require regular (but light) watering and a moderate amount of filtered sunlight, but if you mess it up, no big deal; the plant simply goes dormant. Revive it by removing the shriveled leaves, repotting and watering—shamrocks will return in a matter of weeks. Though capable of flowering indoors year round, exposure to excessive heat and humidity will slow the production of flowers.

For your sunny office with no desk space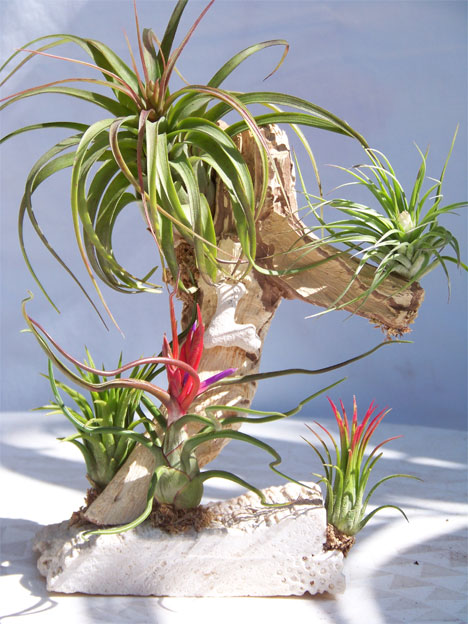 Tillandsia. Image: Key West Island
Air plants, or Tillandsia, are bromeliads without roots—all nutrients and moisture are absorbed through the leaves. That means these small wonders can live anywhere that gets bright, indirect light, making them good candidates for offices have no horizontal real estate. Hang them on the wall or nestle them on any ledge or in any crevice. Because they are rootless, these plants do require regular watering: spray twice a week until the plant is thoroughly wet, but just enough that they'll dry out in about 4 hours, and never soak the base. This can be done on a paper towel in the office bathroom without much trouble —these plants are quite small.

Plants that will take care of themselves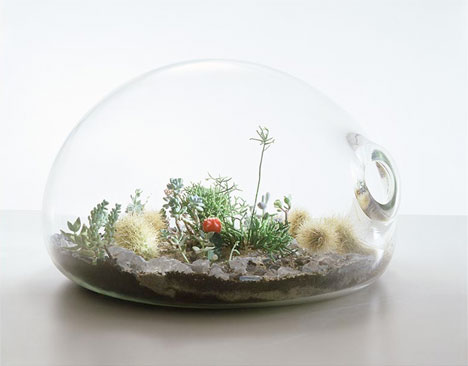 A terrarium by Paula Hayes
There are a number of terrariums that you can buy or make, for a wide range of light levels. When assembled properly, these mini-landscapes will take care of themselves, making them perfect for busy office life. We've been coveting all terrariums by Paula Hayes, but if you're looking for a weekend project, it's easy enough to make one on a shoestring budget. Almost anything you'd want to know can be found at the messy but comprehensive site Storm the Castle, and a nice condensed video put together by design*sponge and Sprout home lives here. Finally, if you like the idea but don't want to spend a lot of time or money, a wide variety of small, handmade terrariums can be found on Etsy, like this small moss landscape from Warm Country Meadows.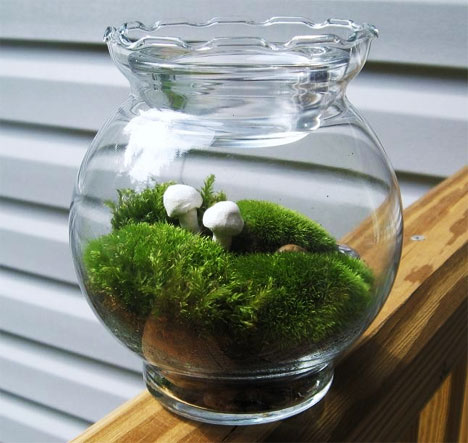 Moss Terrarium by Warm Country Meadows